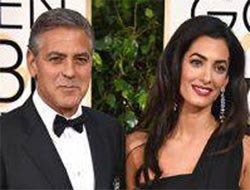 Hollywood actor George Clooney and his wife and human rights attorney, Amal Clooney, recently contributed one million dollars to an anti-racism organization.
According to CBS News on Tuesday, the Clooneys sent the donation to the racist crime watchdog Southern Poverty Law Center (SPLC) via the Clooney Foundation for Justice. "Amal and I wanted to add our voice to the ongoing fight for equality. There are no two sides to bigotry and hate," the couple said during an interview with CBS News. "What happened in Charlottesville, and what is happening in communities across our country, demands our collective engagement to stand up to hate."
The Clooneys are also showing active participation in social contributions by establishing the Clooney Foundation for Justice last year, and joined hands with UNICEF to build seven schools for Syrian refugee children last month.
Other celebrities also joined the donation rally. In recent weeks, famous figures such as Apple CEO Tim Cook and J.R. Morgan each contributed 2 million dollars, and 21st Century Fox CEO James Murdoch, the legitimate heir of media tycoon Rupert Murdoch, also promised to donate 1 million dollars to anti-racism organizations.
Eun-A Cho achim@donga.com