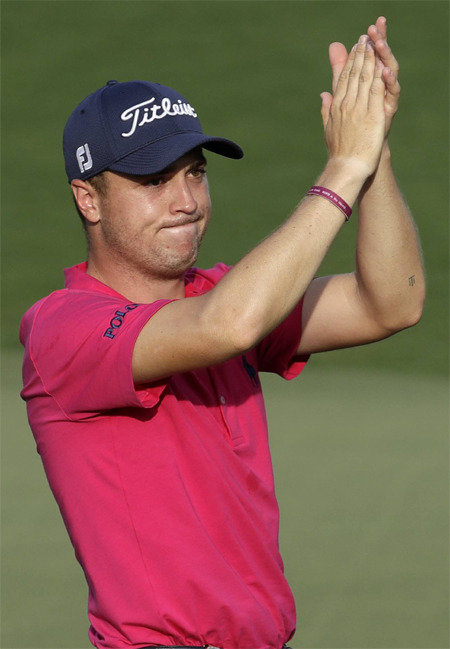 The ball, which stopped for 12 seconds, softly fell into the cup as if someone blew air towards the stopped ball. Justin Thomas (24) of the U.S., who was accorded the spirit of luck, clinched the first major PGA title in his career.
The incident happened at Hole 10 (par 5, 601 yards) in the fourth round of the PGA Championship, the last major PGA event in this season. Thomas swung 2.4-meter birdie putt at the hole, but the ball was hanging on the left edge of the cup.
Nick Faldo, a legendary golfer and golf commentator, counted "One, Two, Three…" but the ball was seen completely motionless. When Thomas made move to hole out with regret after watching the ball for a while, the ball disappeared into the cup. Thomas, who came to tie for first due to the birdie, eventually became the victor through fierce competition in the latter part of the round.
Thomas posted 8-under overall to win the title by playing three-under in the fourth round of the PGA Championship, which ended at the Quail Hollow Club (par 71) in Charlotte, North Carolina on Sunday local time. He won the title at the 99th event of the annual tournament to acquire 1.89 million U.S. dollars in prize money and the Wanamaker Trophy for the champion.
Thomas has secured his fourth win in this season. He posted 59 strokes at the youngest age ever at the Sony Open to win the championship with 27-under 253, the fewest stroke in a 72-hole race of the PGA Tour in January this year.
Jong-Seok Kim kjs0123@donga.com