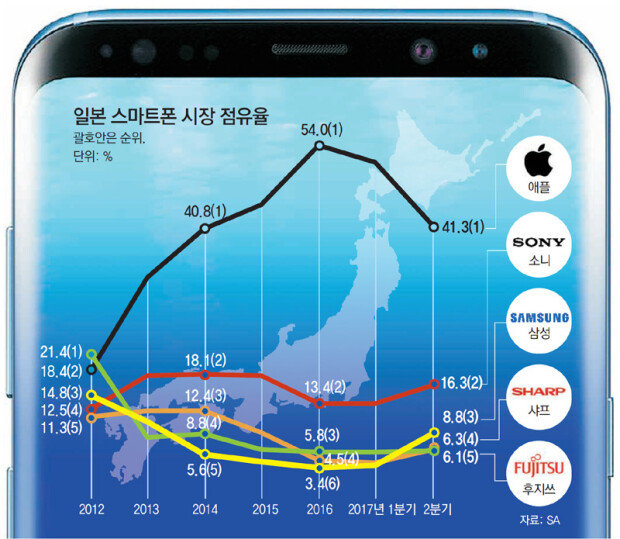 In the second quarter, Samsung Electronics recorded its biggest market share in Japan since 2013, traditionally the major market for Apple. It was the biggest performance in more than four years, backed by increasing sales of its premium GalaxyS8 smartphone and Apple's sluggishness.
According to U.S. market research firm Strategy Ana
lytics on Tuesday, Samsung sold about 700,000 smartphones in Japan in the second quarter for a market share of 8.8 percent. This is a 5-percentage-point increase from the first quarter. Samsung rose to the third place from the fifth beating Fujitsu and Sharp. Apple ranked No. 1 followed by Sony.
Samsung has struggled in the Japanese market due to Apple's dominance and rise of local Japanese companies. In 2012, Samsung had a 14.8 percent market share, with a small gap with Apple that had a 18.4 percent share, but had declined ever since. Last year Samsung's market share was 3.4 percent, and ranked fourth even falling behind Taiwan's Asus.
According to Strategy Analytics, sales of premium models including Galaxy S7 Edge and S8 has increased. Galaxy S8 has been greeted with much fanfare in Japan since debuting on June 8. Samsung has strengthened marketing in Japan by setting up "Galaxy Studio" where people can experience the latest Galaxy devices, while releasing a mid-priced Galaxy Feel in mid-June.
However, Samsung's latest performance risks becoming temporary since Apple is widely expected to release its 10th anniversary iPhone this fall. Apple posted a 51.3 percent market share in the first quarter, which fell 10 percentage points in the second quarter to 41.3 percent. Samsung, Sony and Sharp made up for Apple's lost share.
"Whether Samsung can maintain its current market share even after iPhone 8 release will be a watershed of its success and failure," an electronics industry source said.
Sung-Gyu Kim sunggyu@donga.com