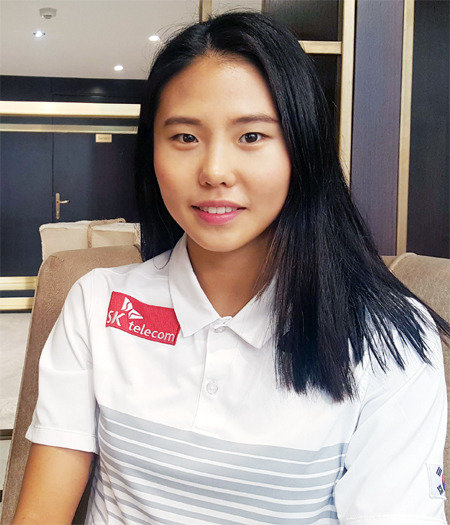 Ahn Se-hyun (22) revealed her big ambition 10 years ago when she was just 12. She was a sixth grader from Samsan Elementary School in Ulsan, who won the women's elementary student 200-meter butterfly competition in the 2007 Halla Cub National Swimming Championships that took place in Jeju. She posted a time of 2:19:83, which was about nine seconds faster the record (2:28:63) posted by the winner of men's elementary student 200-meter butterfly race at the time.
Then 10 years later, Ahn has emerged as a world-class swimmer, leaving strong impression to people in the swimming community. Ahn set a Korean record by posting a time of 2:06:67 to rank fourth in the final of the women's 200-meter butterfly competition at the 2017 FINA World Championships, which took place in Budapest, Hungary on Friday, surprising people in the global swimming community.
After narrowly advancing into the semifinals by ranking eighth, Ahn aggressively sped up soon after the start as if she was determined. She was the first in the race to make the first turn at 50 meters on Lane 8, which is considered the most disadvantageous lane, and raced on par with stronger rivals. She was only lagging 0.65 seconds behind the record (2:06:02) posted by Katinka Hosszú of Hungary, who won the bronze medal. Her time was the best in Asia that outpaced those of Zhang Yufei (ranked fifth, 2:07:06) and Zhou Yilin (ranked eighth, 2:07:67) of China and Suzuka Hasegawa (ranked sixth: 2:07:43) of Japan.
"I raced with the mindset that I have nothing to lose in the final, and it worked well," Ahn said, expressing satisfaction. In the two butterfly competitions in the championships, Ahn set three Korean records and advanced to the final, posting the best ever performance in her swimming career. She also regained confidence that she can aim big for a medal at the 2019 FINA World Aquatics Championships in Gwangju, Korea and the 2020 Tokyo Summer Olympics in Japan for the first time in Korea's female swimming history, which is another gain for her from the latest event.
"Competitions took place very early in the morning, Korea time, but I was blessed with fans' enthusiastic cheering, which enabled me to display good performance," Ahn said. She will participate in the National Athletic Meet, which will take place in North Chungcheong Province in October.
Jae-Yeong Yoo elegant@donga.com