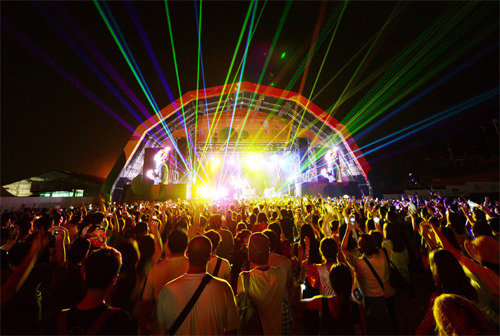 The Jisan Resort located at Icheon in Gyeonggi Province will turn into seats for audiences, as Korea's largest outdoor music festival "Jisan Valley Rock and Arts Festival" will take place here. Then how can visitors get the most out of the festival?
While the 3-day event first started as a rock festival, it now offers nearly all music genres. Therefore, those unfamiliar with pop songs sung in foreign languages can also enjoy the event. Saturday and Sunday will be a great for those who love Korean songs, as Korean singers such as Lee Juk, Zico, Seenroot and Hyukoh and Jaurim will appear on stage. While you're in the venue, try out our top pick band sounds full of catchy melodies including Nell and 9 and the Numbers.
Hip hop and electronic music currently dominate the music scene, and hardcore fans say they were betrayed by the recent mix-and-match line-ups, but the sounds of frenzy electronic guitar still pours down relentlessly, proven by ABTB (Friday) which plays both the shrieking grunge and elaborate metal, spalling rock duo National Alliance of Pigeons (Sunday), The Koxx will blend electronic music and blues with rock on Saturday, and iamnot will claim Sunday that K-pop is not all about idol groups. Radwimps, the Japanese band famous for its original soundtrack on the animation film "Your Name," will also be fully geared up for the upcoming festival, which is its first stage overseas.
Now that the stage has been set, it's time for some party. American band Major Lazer and the British Gorillaz have secured the longest time on Friday and Sunday, respectively. The two bands are expected to disseminate addictive rhythms extracted from reggae, END, rock, and hip hop and play in seconds. Pop wunderkind Lorde from New Zealand will also introduce on Friday his chilly dance pop as a grown-up kid.
You can even meditate with rock music. The Icelandic rock band Siguor Ros will play on Saturday their 21st century hymns with amplified electric sounds. Iceland band Asgeir and British band Slowdive will also draw their majestic impressionist sounds on the musical canvas on Friday. Visitors will also enjoy a quite different sound when listening to Korean bands Silica Gel and Shin Hae-kyung on Sunday.
While the 3-day tickets have all been sold out, 1-day tickets are still available online via Interpark, Yes24 and others by 8 a.m. and at the concert venue each day. For more information, please visit valleyrockfestival.mnet.com.
imi@donga.com