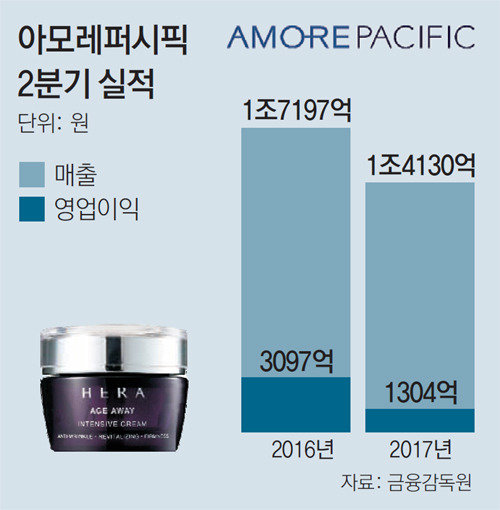 China's apparent retaliation against the deployment of the THAAD to Korea took a heavy toll on AmorePacific, Korea's No. 1 cosmetics firm. With Chinese tourists drastically falling, AmorePacific's operating profit halved compared to the same period a year ago.
AmorePacific said Wednesday that its revenue recorded 1.41 trillion (1.26 billion U.S. dollars) and operating profit 130.4 billion won (116 million dollars) in the second quarter, falling 17.8 percent and 57.9 percent year-on-year, respectively. In the first half last year, revenue was 3.4790 trillion won (3.17 billion dollars) and operating profit 722.8 billion won (651 million dollars), the biggest half-year performance in the company's history.
China banned tourism bound for Korea in March this year as an economic retaliation against Korea over a missile defense system, resulting in a decline in duty free shop sales in Korea. AmorePacific explained that its sales in duty shops declined by 14.7 percent in the second quarter of the year. Chinese tourists account for 60-70 percent of duty free shops in Korea.
AmorePacific's overseas business saw a sales rise of 7.3 percent compared to a year earlier to 885.5 billion won (791 million dollars), but operating profit fell by 16 percent to 107.9 billion won (96.38 million dollars). Sales increased in the Southeast Asian market, but growth slowed in China including Hong Kong, eroding profitability.
The company was vulnerable to China risk due to the THAAD deployment as China accounts for more than half of AmorePacific's overseas sales. "Earnings decline is likely to continue until at least the third quarter since Chinese tourists are on the decline," Mirae Asset Daewoo said.
Against this backdrop, AmorePacific has decided not to pay first half incentives to its employees, the first time not to do so in about 10 years. The company had paid 12 percent of annual salary as incentives both in the first and second half. "We will release competing products in the domestic market and seek new markets to reduce China dependence," a company staff said.
Eun-Seo Park clue@donga.com