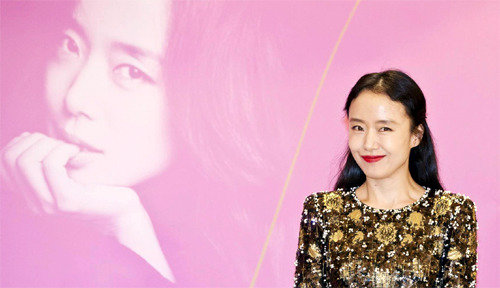 A press conference was held on last Friday to celebrate actress Jeon Do-yeon's 20th anniversary of her debut. She appeared on the stage wearing a mini dress and was humble to hear much praise from audiences, most of them were insiders of the Korean movie industry. They praised her by saying that she left her mark in the Korean film history.
Her first movie was a melodrama titled, "The Contact (1997)." Since then, Jeon uniquely positioned to be the best actress in Korea and appeared on 17 films including "Secret Sunshine," which gave her the best actress award at the 2007 Cannes Film Festival. She was the woman with an affair in the movie "Happy End," and was an innocent girl who is falling in love for the first time in "The Harmonium in My Memory." She appeared in many movies in various genres including action, film-noir, and romance.
As for the question of asking her favorite movies among the ones she played, she picked three movies -- "The Contact," "The Secret Sunshine (winning the best actress at the Cannes)," and "Happy End."
She hinted on her next film. "I want to meet a director who demands me something that I haven't thought of and distresses me. I'm waiting all the time," she said. "I don't know when I'll take my 18th movie and about my future career. I'll try harder."
Sun-Hee Jang sun10@donga.com