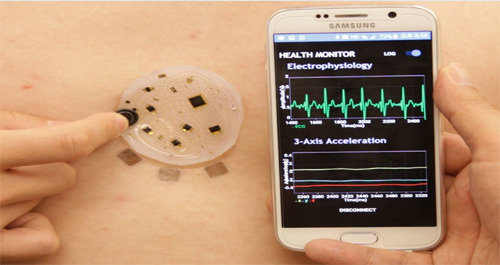 Korean scientists have developed an "electronic skin" that can be connected to a smartphone and work wirelessly for the first time in the world. If it is put on a skin, it can monitor various biometric information 24/7, enabling telemedicine.
A robotic engineering team led by Professor Jang Kyung-in of the Daegu and Gyeongbuk Institute of Science and Technology (DGIST) has successfully developed a wireless artificial electronic skin with the U.S. team led by Professor John Rogers of Illinois University. While some elastic electronic skins were developed in the past, it is the first time that artificial skin is developed with an electronic device embedded in it for wireless connection.
The research team engraved ivy-shaped lines where a tiny amount of electricity flows in an electronic skin. They created a basic form of a computer by using spring-shaped highly elastic lines and highly soft new materials. The soft and thin patch can be easily put on a skin like a bandage and functions for several days once connected to a tiny battery.
The researchers put the patch on a chest and successfully collected electrocardiogram and a breathing rate and sent the data to a smartphone. It is expected to provide telemedicine to patients who need an ongoing medical checkup, such as patients with a heart condition or the elderly as it allows checking a basic health condition 24/7. "If we analyze the collected biometric data using artificial intelligence, a more diverse way of medical checkups will become possible," Professor Jang said.
enhanced@donga.com