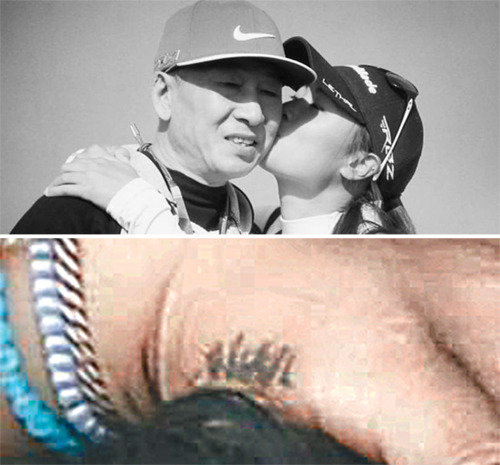 After a birdie putt on the 18th hole that confirmed her winning, Danielle Kang clenched her right fist that had a tattoo reading "daddy." On the forefinger read "Just be," which Kang graved a tattoo to remember her father's comments that he wanted Kang to become a person who realizes her dreams. Almost teared up, Kang said, "I was able to win because my father gave me strength. I have a wish, which is to make my father see the scene of my victory."
Kang devoted her win to her late father who passed away due to cancer in 2013. She won the KPMG Women's Championships, the second major competition in the LPGA Tour that ended at the Olympia Fields Golf Course near Chicago in Illinois on Sunday local time. Born in San Francisco, Kang started golf on her father's recommendation.
Kang was a distinguished player who won the U.S. Women's Amateur Championships in 2010 and 2011 as a teenager, but failed to notch wins after debuting as a pro. Her father passed away as a caddie when she was an amateur, while Kang also suffered wrist fracture last year. Kang played this competition with bandage on the wrist.
Despite ordeals, Kang tried to stay calm by writing letters to her father. She posted a photo of herself with her father on Instagram last month with a message that "Though I'm not with my father, I still feel his love every day."
trigger@donga.com