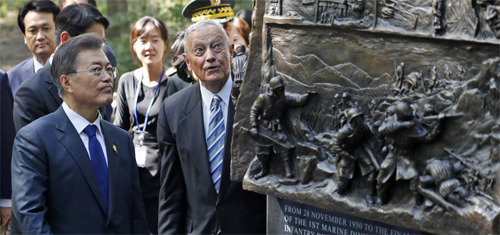 President Moon Jae-in stressed the "blood alliance" between South Korea and the United States on the first day of his visit to the United States, expressing his gratitude for U.S. troops who evacuated numerous refugees from North Korea's Hungnam Port at the height of the 1950-1953 Korean War.
"The ROK (South Korea)-U.S. alliance was forged in blood in the fire of war like this." he said during his speech to a wreath-laying ceremony at the Jangjin (Chosin) Reservoir Battle Monument in Quantico, Virginia. "Had it not been for the valiant warriors of the Jangjin Reservoir Battle and the success of the Hungnam Evacuation, my life would not have started. I would not even exist today."
President Moon's first message to the U.S. on the first day of his diplomatic debut emphasized the bilateral alliance as a "blood alliance."
After laying a wreath before the memorial as his first official activity in the U.S., he said that the bilateral ties are "not an alliance forged simply by signing several papers."
"Thanks to the remarkable fighting spirit of those heroes of the Jangjin Reservoir, the operation to evacuate some 100,000 refugees from Hungnam could be successful," he said. "My parents were also among the refugees aboard the SS Meredith Victory at that time. As is the case with my life, the alliance between Seoul and Washington is strongly linked to the life of every single person on both sides. Because of that, I have no doubt about the future of the ROK-U.S. alliance. It will develop into a greater and stronger alliance."
Earlier in the day, President Moon said during a news conference while aboard Air Force One on his way to Washington that the North "must at least promise to a nuclear freeze for us to start taking serious measures (discussions) for its denuclearization. In that sense, its nuclear freeze will be the entrance and nuclear dismantlement the exit."
He added, "Each step in the process must be completely verified before we will be able to move onto the next." The remark made concrete his proposal of a two-phased roadmap of a "nuclear freeze first before nuclear scrapping." The key lies in whether U.S. President Donald Trump will agree to Moon's proposal.
weappon@donga.com · ddr@donga.com