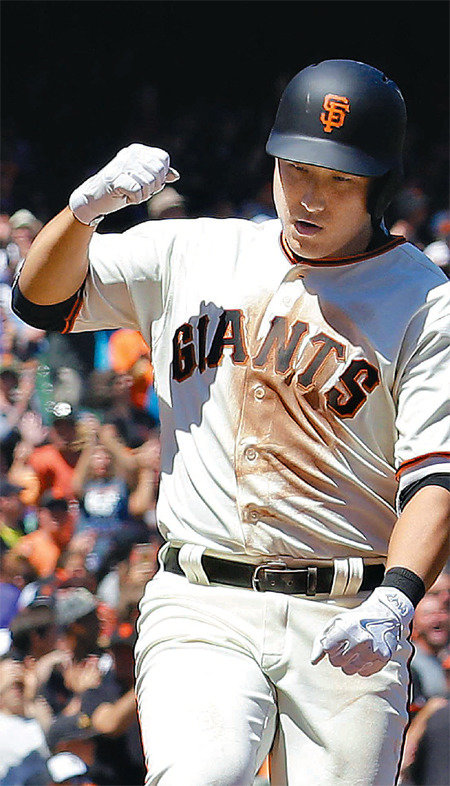 Jean-Paul Sartre, French philosopher and novelist, said, "Life is C between B and D." It means that life is choice between birth and death.
Hwang Jae-gyun of the San Francisco Giants who hit a tiebreaking home run in his debut at the U.S. Major League Baseball on Thursday had several "C"s in his life. On Thursday, he made his big league debut at AT&T Park, starting at third base and batting fifth against the Colorado Rockies.
Hwang earned his first Major League run batted in with a ground ball before the pitcher in his second at-bat. At the bottom of the sixth inning, he swatted a go-ahead solo home run against Rockies lefty Kyle Freeland, who threw a 145-kilometer-per-hour fastball. The homer, Hwang's first big league hit, was a clutch home run that goes the Giants ahead of the Rockies.
It was another Giants infielder, Conor Gillaspie, who changed the path of Hwang, who was about to leave the Triple-A Sacramento. Judging that Gillaspie's return to the Giants from the disabled list would leave little change for him, Hwang was about to resort to the opt-out clause in his contract that would allow him to declare free agency if he was not called up by the Giants. Then, Gillaspie was put back on the disabled list, prompting the Giants to call up Hwang.
It cannot be said that Hwang was the best third basemen in the South Korean professional baseball league because of Choi Jeong of the SK Wyverns. The two players took different courses. Choi, who became a free agent in 2014, opted to stick with SK for a total of 8.6 billion won (7.5 million U.S. dollars), while Hwang took a chance on a contract that did not guarantee a ticket to the Major League. Even if he did, he would get up to 3.1 million dollars. "I wanted to hit a home run in the Major League," Hwang said of his challenge at the big league. With Wednesday's homer, Hwang had one of his dreams come true.
Kyu-In Hwang kini@donga.com