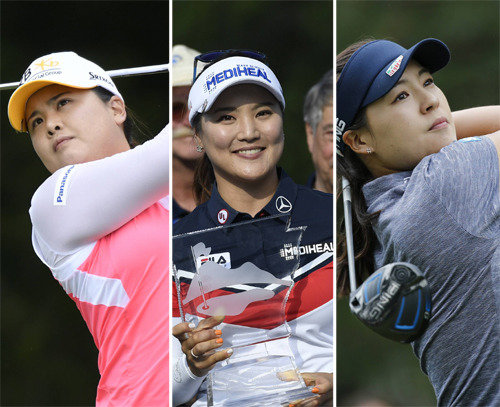 At this LPGA Tour season, Korean female golfers have grabbed eight wins among 16 competitions up to last week. With the total games tallied at 34, if Korean golfers maintain their current pace of 50 percent of wining rate, they can grab nine more wins in the remaining 18 games. If this is realized, then the Koreans can make 17 victories, beating the previous record of 15 wins posted in 2015. Hopes are high since competitions are focused in Asia in the latter half of this year.
The KPMG Women's PGA Championships, this season's second major competition that will open Thursday at the Olympia Fields Golf Course near Chicago, deserves much attention as it stages a group of major players. Park In-bee, who has grabbed seven wins in total in the majors, achieved three successive wins in 2015 in this competition. Park was disqualified last year due to wrist injury, but she still had a wonderful experience of joining the Hall of Fame after the first round. Having said that she will focus on major competitions this year, Park said, "I have a good shot sense and I tend to get good results in summer times."
If Park wins again, she will be on par with Mickey Wright who has the competition's biggest number of wins (four wins).
Ryu So-yeon, who will join after grabbing world No. 1, is aiming a second succesive win following the ANA Inspiration in April. "The field is small and has lots of slopes. It could be challenging if the green is too solid and if the balls run too fast," Ryu said. "As I have a good iron shot, it could be a suitable course for me."
Chun In-gee and Park Sung-hyun, both of who failed at the last minute this season, boast of their strength in major competitions. Chun has grabbed 13 wins at the Korea-U.S.-Japan tours, and seven among them were in major competitions. Park, who had her first Korea win at the Korea Women Open, a major competition, was listed in top six in all three major competitions in LPGA Tour last year as a guest player. Shin Ji-ae, who has a record of being the first Korean to rank No. 1, will also join as a special guest player.
U.K. betting firm Ladbrokes has installed Lexi Thompson as an 8-1 favorite. Ariya Jutanugarn is in there at 10-1. Ryu goes off at 12-1 with Lydia Ko, and Jeon 14-1 with Park In-bee and Park Sung-hyun at 20-1. Park In-bee will play against Thomson and Ko in the first and second rounds.
Jong-Seok Kim kjs0123@donga.com