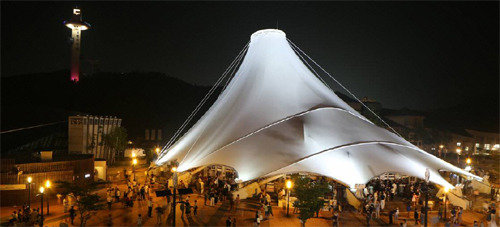 Chilly winds begin to blow from the mountain as the blazing sun of the summer streaks the sky. Audiences can feel the mountain breeze in the tent-shaped concert hall as the four areas of the hall are open. You can also hear the sound of bugs along with classical music. This is the music tent at the Alpensia Resort in Gangwon Province where PyeongChang Music Festival will be held.
The 14th PyeongChang Music Festival is scheduled to be held from July 18 to August 8 at Alpensia Resort concert halls and other places in Gangwon Province. The festival has selected a special theme each year and this year's theme is Great Russian Masters. Audiences can enjoy classical music of significant Russian composers including Tchaikovsky, Rachmaninoff, Prokofiev, and Shostakovich.
"The first thing that pops up in your mind would probably be maestro when you think of Russian music," Festival art director and violinist Jung Kyung-wha said."Masterpieces of Russian composers will be performed at this year's festival."
The opening concert on July 26 is designated by a subtitle of "Korea-Japan-China concert" in the hope that Olympic games held in Asia can also be successful cultural events. The three Asian countries will host Olympic games and they are the PyeongChang 2018 Olympics, the 2020 Tokyo Olympics, and Beijing 2022 Winter Games Olympics. Fanfare for PyeongChang by Texu Kim (world premiere on Aug 2) and two other pieces composed upon request will be introduced.
Dong-Wook Kim creating@donga.com