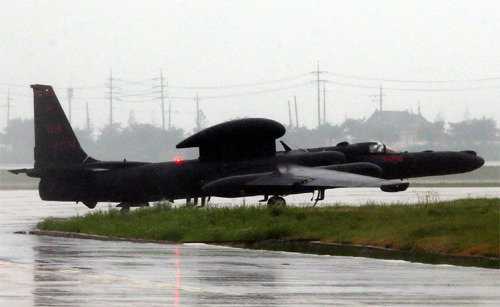 A group of U-2 spy planes from the U.S. Forces Korea (USFK) have been temporarily deployed to Okinawa, Japan. It was the first time that the U.S. Air Force unit in charge of key surveillance of North Korea was moved out of the Korean Peninsula.
According to the USFK, the four U-2 reconnaissance aircrafts and some 180 operational personnel, including their pilots, in Osan Air Base were deployed at Kadena Air Base in two batches late last month. A USFK fource said that they were relocated temporarily to Kadena Air Base due to a month-long runway construction work at Osan Air Base.
The reconnaissance aircrafts collect data such as high resolution imagery and signals on North Korea military movements while flying at 20 kilometers or higher altitudes near the military demarcation line. The ultra-high-definition optical carmera mounted on the U-2 is known to be capable of tracking signs of North Korea's nuclear and missile provocations or North Korean military units' movements dozens of kilometers away.
The USFK said the unit's redeployment would cause no problem in conducting its North Korean surveillance duty. However, there are concerns over possible gaps in surveillance that could arise during the process of flying to and from Kadena Air Base, which is more than 1,000 kilometers away from Osan. A South Korean military official said it is "desirable" to complete the runway construction work as soon as possible and have the U-2 unit returned.
The USFK also said that an F-16 squadron from the US Forces Japan's Misawa Air Base in Aomori, Japan was temporarily deployed to Gunsan Air Base in South Korea for the same reason on May 25.
The unit is known to be conducting various joint drills with U.S. Air Force fighters in South Korea to maintain peace in Japan and on the Korean Peninsula. It also checked the process of U.S. Air Force assets being quickly deployed to another region and complete missions in the event of an emergency such as a destroyed runway at the Misawa Air Base.
A USFK source said that quick deployment of U.S. military assets to anywhere in the region is one of the U.S. Pacific Command's most important capabilities.
Sang-Ho Yun ysh1005@donga.com