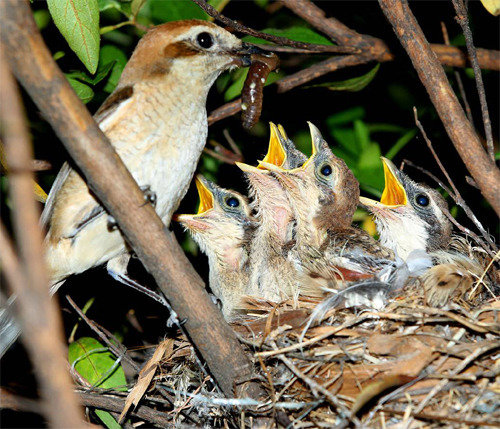 Small birds of prey of butcherbird were identified to be breeding this year following last year at Namsan Park in Seoul. The Seoul Metropolitan Government Central Park Green Area Management Office said Monday that spawning breeding of butcherbird that is at the top of the predator pyramid was observed there.
This spawning breeding is evidence of a stable ecosystem of Namsan according to Seoul city government. "Butcherbird is the top predator of insects, frogs, birds and rats," a park office source said. "It is a sign that various species of living things including insects, amphibians and reptiles are constituting a stable ecosystem."
Butcherbirds, about 18-20 centimeters long, are birds of prey living in forests, which have a habit of storing amphibians and reptiles like frogs and lizards as well as insects and small birds on tree branches or barbed wire fences. The bird monitoring group at Namsan Park has been observing and recording 17 categories and 81 species of wild birds since January last year. In cities, it was found that endangered sparrow hawks and brown hawk-owl designated as natural monument were breeding at an artificial bird nest.
Seng-Hyun Kang byhuman@donga.com