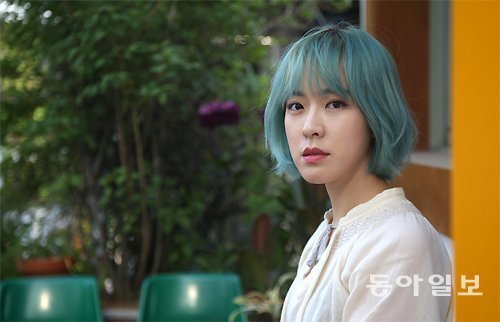 Singer-songwriter Yozoh, whose real name is Shin Su-jin, has released her new album as a film for the first time in Korea.
Yozoh has not only directed the film titled "Best Driver" but she also has written and composed all the songs in the film.
"I just want to talk about different weight when death, the worst tragedy of human beings, becomes not my problem but the problem of others."
When the three friends are heading for Jeju Island from Gimpo Airport, the first song titled "Passing through the Airport (I will pass through the airport to go to either the heaven or the hell)" begins. When they go for grocery shopping in Jeju, the song "Agedness" runs whose lyric begins with "Oh, I hate that." Combining acoustic pop with post-rock, which feels like a fresh wind and heavy night air, her music strangely goes well with black comedy with sensuous images.
"The movie was finished first and I started writing the lyrics and composition," said Yozoh. "Because it's not easy to make songs whose length exactly corresponds to each film scene whose editing have been completed" As she tried to make songs whose length and flow match to the scenes, the outputs were liberated from a typical formula of verse-chorus-verse-chorus.
The singer-songwriter had finished the selection of subject and ideation four years ago, but she simply cannot go for it as she has never tried making a film. She and her company CEO said last year, "It won't be profitable but let's just do it as it will be fun and meaningful to try." An employee from the company who has once worked as movie staff was in charge of producing the film.
Based on a short story with the same title that she had written in 2013, Yozoh finished the scenario in just a couple of months. The shooting in Jeju Island took just three days. "For recording an album, it was all about me. But filming was such a complicated work that should consider many different things from a number of staffs, actors and actresses and weather," Yozoh said. "I did quite a lot of method acting even harder than actors, actresses and directors as I have to maintain a poker face so that my stress and anxiety are not contagious to others. It seems that I became 30 years older in just three days because of hard method acting."
"Best Driver" is to be released as a sound source and album in mid-May. It will also be submitted to other film festivals home and abroad, while it will come as a DVD next year.
Yozoh who has run a bookstore called "Musa (literally meaning "no thinking")" in Bukchon, Seoul since 2015 will relocate the store to Gujwa-eup in Jeju as early as this coming June. She plans to run her bookstore in Jeju for the time being.
imi@donga.com