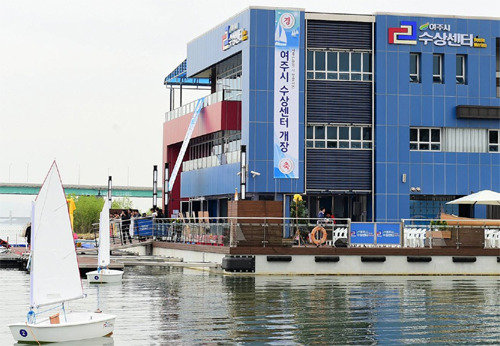 The City of Yeoju recently opened a sports center allowing for various types of water sports activities in the Namhan River in Yeoju City, Gyeonggi Province. Spanning 803-square-meter wide, the three-story municipal sports center is not built on a land, but floating on the water like a ship.
The first floor of the building houses a maintenance office, a club house, common rooms, a locker room and show booths, and on the second floor is located a multi-purpose room designed to host seminars and banquets. The room doubles as a venue for social gatherings, workshops, and exhibitions. The third floor will be used to accommodate a café where citizens can enjoy light meals and beverages.
The water center is also equipped with a mooring where citizens park their boat and yacht for a certain fee. Non-powered water sports such as canoeing, kayaking, or dinghy yacht are available for visitors. An hour of canoeing and kayaking can be enjoyed for 10,000 won for adults, and the fare for trying dinghy yachts is 20,000 won per hour.
The center is planning to implement a free-semester career experience program for all school-age students, such as survival swimming programs and canoeing and kayaking. The center is planning to install a test site for regular driving license (powered water sports devices) for those who enjoy water sports on a community basis while running a facility for powered water sports activities such as motorboats and yachts in the long term.
The center is open from 9 a.m. to 6 p.m. Every second and fourth Mondays are off-days.
Kyung-Hyun Nam bibulus@donga.com