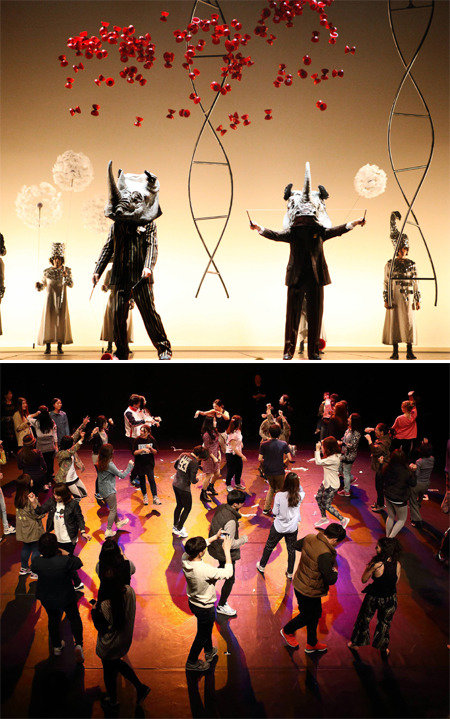 This spring brings us with colorful events, with painter Salvador Dali's works displayed on stage, Mozart's opera played, and unique improvisation dance performances held.
World-renowned performance producer Daniele Finzi Pasca will stage his art circus "La Verita," inspired by surrealist painter Dali's works at the LG Art Center from April 27 to April 30.
On the background of a curtain painted by Dali's "Mad Tristan," performers in various colorful clothes will perform a combination of plays, dances, music and arts. Under the lightings that shine like watercolors, topless dancers will fly on ropes and swim in between sculptures resembling dandelion seeds on the stage.
"Mad Tristan" was created in 1944 when Dali was staying in the U.S. to avoid World War II, while making the work using a ballet performance with the same name featured at the Metropolitan Opera in New York. La Verita production company used Dali's actual work in performance for three years after debuting in Montreal in Canada in 2013, but now uses a replica.
Mozart's representative comedy opera "Cosi Fan Tutte" will be held on April 28 at Lotte Concert Hall in Seoul. Conductor René Jacobs of Germany's Freiburg Baroque Orchestra and Korean soprano Im Sun-hae will be playing. It offers a chance to appreciate the Baroque era's musical instruments and performance techniques.
The Seoul International Improvisation Dance Festival will be held from April 18 to April 23 at the Arko Arts Theater in Seoul where world-class artists will join. Improvisation dance refers to dance where performers meet for the first time on the event day and dance without determined themes. More than 150 artists from various nations such as Korea, France, the U.S., Hong Kong and Japan will be joining. Performance stages and classes will also be held for interested students and ordinary people.
Dong-Wook Kim creating@donga.com