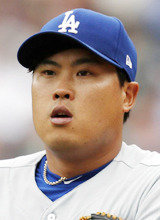 Los Angeles Dodgers pitcher Ryu Hyun-jin, who challenged to secure his first win in two years and seven months, suffered loss again in his second game of this season. Ryu started in the game against the Chicago Cubs at the Wrigley Field in Chicago on Friday. The 30-year-old pitcher gave six hits including two homers and two walks, and lost four runs during four and two thirds of innings. Dodgers lost 0-4, while Ryu suffered his second loss of this season.
Ryu was expected to see his ball speed increase from his first game of the season on Saturday last week (149.7 kilometers per hour), but the situation was quite the opposite. He threw a pitch of 147.6 kilometers per hour once in the third inning, but most of his fastballs only reached the range of 141.6 to 143.2 kilometers per hour. Sensing that Ryu's fastballs are not that powerful, Cubs' batters took advantage of his weakness. In fact, all of the six hits that Ryu gave on the day were recorded when he was throwing pitches in the range of 141.6 - 143.2 kilometers per hour.
Time will not be in Ryu's advantage. Rumors suggest that Julio Urias, a promising pitcher who is currently playing in the Minor League, will return to the Major League at the end of this month.
"As Dave Roberts in his second year as Dodgers manager is not patient enough to give players a chance for a long time, Ryu must display that he is gradually improving," said Song Jae-woong, commentator at MBC Sports Plus. "Ryu's status in his team could be determined by how he will perform in the two to three remaining games he will pitch this month."
Hong-Gu Kang windup@donga.com