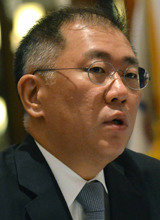 Hyundai Motor will unveil the first SUV model of its luxury Genesis brand at the 2017 New York International Auto Show.
Hyundai Motor announced on Wednesday that its concept SUV for the Genesis brand will debut at the New York Auto Show opening on Friday (local time). It has been told that the Genesis SUV belongs to the mid-size SUV category together with Hyundai Motor's Santa Fe and Kia Motors' Sorento. The Genesis SUV is expected to hit the market in 2019.
The booth assigned for the Genesis brand at the New York Auto Show will be as big as 372-square-meter. The Genesis G80, G90 and G80 Sport will be displayed together with the Genesis SUV. Hyundai Motor is also gearing up for the launch of its mid-size sedan the G70 this year.
After having been introduced in the Korean market in March, Hyundai Motor will bring its mid-size sedan the Sonata New Rise for the first time to North America through the New York Auto Show. In addition, Hyundai Motor will showcase three different versions of its eco-friendly models for the Ioniq brand including hybrid, electric and plug-in hybrid. The company will display a total of 18 cars at its 1,603-square-meter booth at the New York Auto Show.
Kia Motors' new Rio will debut at the U.S. market through the show. In addition, the company is displaying its high performance sport sedan the Stinger, which will arrive in the Korean Market in the first half of 2017.
Hyundai Motor Vice Chairman Chung Eui-sun has departed for the U.S. in order to attend the New York Auto Show. He plans to monitor audience's review of the Genesis SUV concept car and take care of the exhibition by himself. Since early 2017, Chung has been actively participating at many international events, such as the Consumer Electronic Show, the Geneva International Motor Show and the Seoul Motor Show. After weak earnings performance in 2016, Hyundai Motor needs a strong rebound this year. Against this backdrop, Chung seems to be taking care of small details for the show.
Chung plans to visit Hyundai Motor's Alabama plant and Hyundai Motor America Sales Corporation in Los Angeles during his stay.
Eun-Taek Lee nabi@donga.com