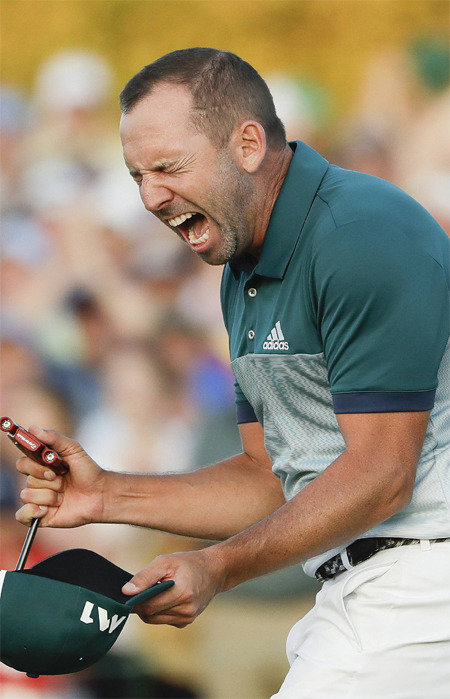 There is a saying that the Masters Tournament only starts from Sunday Back Nine (nine holes in the latter half), because a dramatic race determining the winner often happens at the last hole in the final round of the championship. The same held true with Sergio Garcia and Justin Rose, who fiercely vied for the first Green Jacket in their careers.
The two golfers engaged in a tight race as if displaying a match play. Garcia Garcia made consecutive bogeys at Nos. 10 and 11 to fall two back.
The diehard jinx of a major championship could have afflicted Garcia, but the situation was different this time. Garcia sent his tee shot into the forest at the 13th(par 5), and had to take a one-stroke penalty for an unplayable shot, but managed to salvage par. Rose had 2 on at the same hole, but only garnered par with three putts. They both had par play, but the mood completely changed.
The 37-year-old Spaniard had a birdie at the 14th (par 4) to narrow the distance against Rose, played a tee shot of as long as 330 yards at the 15th (par 5), successfully had a 2 on with 8-Iron before birdieing with a 3-meter eagle putt. Rose also birdied the same hole, and "T1" meaning tying for the lead was placed by the names of the two players on the leaderboard. It was a breathtaking moment but Garcia even tapped on the shoulder of Rose who birdied and displayed his confidence.
Rose widened the gap by one stroke with a birdie on the 16th (par 3) again, but bogeyed at the 17th (par 3) to tie in the number of strokes with Garcia. After Rose missed a 4-meter putt at the 18th (par 4) that he encountered whey they were tying for the lead, Garcia failed to put a birdie putt of about 2 meters, which could have determined his win.
Garcia, who missed a shorter putt, could naturally have lost focus, but he became more solid in the playoff. Rather, Rose was first to fail despite having had more successful experience in major events including the US Open title and the Rio de Janeiro Olympic gold medal.
Rose had a slice shot with a driver tee shot to have the ball hit a tree on the right side, and sent his second shot from the bush tree just 42 yards. Rose put the ball on the green at three strokes, before placing a 4.5-meter par putt slightly off the hole cup. Garcia, on the other hand, was set to win the title only if he secured hole-out with two putts from a distance of 3.6 meters. With burden significantly eased, Garcia saw his birdie putt disappear into the hole cup. Garcia's eyes, which were cheering for his first major victory, were seen getting wet.
Jong-Seok Kim kjs0123@donga.com