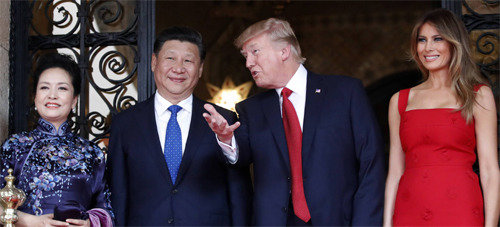 On the Donald Trump Administration's orders, an extensive air assault was launched on Thursday (local time) to the regime of Syrian President Bashar al-Assad as a retaliatory action to the recent chemical weapon attacks on civilians. The order comes as "Trump's military unilateralism," which allows military forces to launch ruthless attacks once other states cross the "red line" set by the U.S. Furthermore, the recent attack could be interpreted as a stern warning to Pyongyang; should it crosses the "red line" in developing nuclear and missiles, Washington will engage in military actions including preemptive strikes.
President Trump also made himself clear that in favor of its national interest, the U.S. will not beg for consensus not only from the U.N. but also from strong nations such as China and Russia. His unilateral military actions came only an hour later when the pro-Assad Russia vetoed a UN resolution to impose sanctions on Syria over the alleged use of chemical weapons. In addition, the swift air assault right after Trump's dinner with Chinese President Xi Jinping in Florida may have been a silent warning to the pro-Pyongyang leader, by pressuring Xi to "stop harboring North Korea."
A U.S. military official confirmed at 8:45 p.m. on Thursday (3:45 a.m. on Friday in Syria) that the guided missile destroyers USS Porter and USS Ross deployed in the Mediterranean launched 59 Tomahawk cruise missiles on the Syrian Al Shayrat Air Base. It was known that the air assault targeted to fighters, runways, and petroleum terminals killed four Syrian government forces including a general.
At 9:40 p.m., immediately after the dinner, the U.S. president issued an emergency statement that "It is in the vital national security interest of the United States to prevent and deter the spread and use of deadly chemical weapons. Tonight, I call on all civilized nations to join us in seeking to end the slaughter and bloodshed in Syria."
The strike is the first direct military order taken by Trump since his inauguration. Russian President Vladimir Putin retorted instantly after the air assault that the U.S. strikes against Syria is an aggression against a sovereign country violating the norms of international law, and under a trumped-up pretext at that, adding that Washington's move impairs the Russian-U.S. relations. The announcement made by the Russian president may imply that the honeymoon relationship between the two nations may quickly sour.
Seung-Heon Lee ddr@donga.com · Jung-Min Dong ditto@donga.com