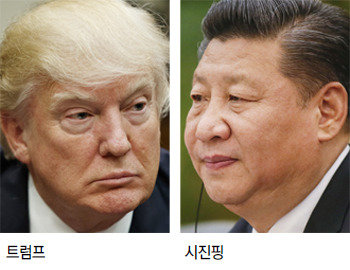 The White House announced on Thursday that trade and North Korea's nuclear development will become the two biggest agendas in their first summit between U.S. President Donald Trump and Chinese President Xi Jinping on April 6 and 7.
"The meeting next week with China will be a very difficult one in that we can no longer have massive trade deficits and job losses," President Trump tweeted on the day. He thus indicated that topping the agenda in his first summit with Chinese President Xi will be Washington's trade deficit with Beijing, outflow of jobs, whether China has manipulated the exchange rate, and levy of tariffs on steel products. To this end, Trump will sign an executive order that is aimed at comprehensively examine America's trade deficits with major trading partners including South Korea as well as China.
In his regular press briefing on Thursday, White House spokesman Sean Spicer said, "The leaders of the U.S. and China will discuss issues of mutual concern, including North Korea, trade, and pending security issues in the region," suggesting that the summit will address the issue over nuclear development by Pyongyang, which is very close to conducting its sixth nuclear test. "We face a number of major issues ranging from the South China Sea, to trade, and to the North Korean nuclear issue. The two leaders will put many things on the table for discussion during the two-day summit," Spicer said.
Commenting on this, the Washington Post stressed that President Trump should proactively raise issue with China's retaliatory measures against South Korea for the deployment of the Terminal High Altitude Area Defense missile system on the Korean Peninsula. In his op-ed in the Washington Post entitled "Will Trump Stand up for South Korea with China's Xi Jinping?" columnist Josh Rogin said, "The United States' allies in Northeast Asia will be watching closely to see if the Trump administration will stand by its friends against increasing pressure from Beijing. How Trump deals with China's massive retaliation against South Korea in response to U.S. missile defense deployment is one crucial test." In his interview with the Washington Post, Cory Gardner, chairman of the Asia Pacific Subcommittee under the U.S. Senate Foreign Relations Committee, said, "China is attempting to intimidate South Korea (in connection with the THAAD deployment). If there is any timing (for the U.S.) to assist our ally, it is right now."
On this issue, China has emphasized more than ever the need for communications and cooperation between the two countries in an apparent bid to dodge Trump's aggressive offense. "The two countries should not clash with or protest against each other in the face of new geopolitical order, and should maintain the principle of cooperative and co-prosperity," China's Assistant Minister of Foreign Affairs Zheng Zeguang said in the press conference on Friday. "We should seek stable development of Washington-Beijing ties by strengthening communications, expanding cooperation and confidently addressing differences in views."
Seung-Heon Lee ddr@donga.com · Ja-Ryong Koo bonhong@donga.com