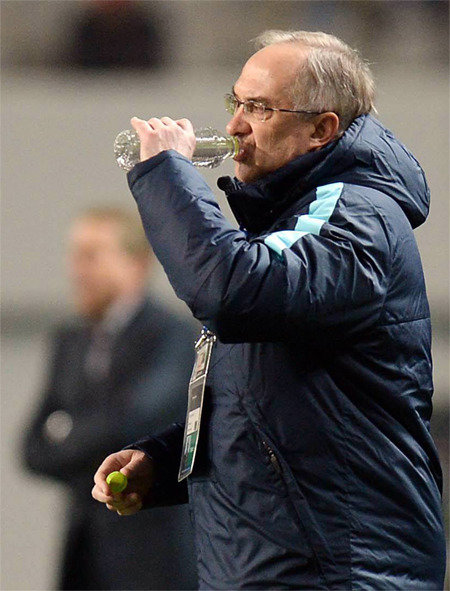 Korea beat Syria 1-0 in the seventh match on Tuesday of the Asian Regional Qualifiers for the 2018 World Cup in Russia to secure three points, but Korean soccer fans remain highly angry and discontent. Public criticism of national team coach Uli Stielike, which arose due to Team Korea's humiliating 0-1 loss to China in the away game on March 23, remains unabated. Korea was able to score the first goal at 4th minute in the first half of the match against Syria, but the team has not resolved chronic problems including the lack of capability to score goals and unstable defense at all.
"It has been nearly three years since Coach Stielike assumed the Korean team's coach, but what on earth has he shown for the team?," said a retired veteran soccer player who served as an icon of Korean soccer once in the past. He lamented that Coach Stielike has never shown any hints of tactics and strategy suggesting that "he has changed."
"Unless the Korean Football Association takes the lead to come up with a corrective measure, Korean soccer could collapse," KBS soccer commentator Han Joon-hee said. He has pointed out that Coach Stielike has not done any analysis of the opponent teams, nor has he agonized over how Team Korea will cope with them. "Coach Stielike tends to consider problems raised by others as none of his own business. Pundits have said that Stielike has problems with selection of players and tactics in general, but he has not changed at all," Han said. "If Korea does not make thorough analysis of previous matches, so detailed that it can even constitute a White Paper, Korean soccer will continue to be hopeless and have no future."
"The Korea Football Association does not seem to recognize how dreadful it is to stay business as usual. If he were the national team coach, he should display images of evolutionary changes, but we could hardly notice any hints of the word "evolution" in the national team for nearly three years," a soccer commentator for a broadcaster said on the condition of anonymity. "Coach Stielike caused retrogression of Korean soccer. When we cannot understand his selection of players, how can players trust the coach and play games by following his leadership?" the commentator. Korea should seriously agonize over whether Team Korea will continue to be under Stielike's leadership or not since we have some time until June when the final qualifiers will resume."
Korea with 13 points is ranking second in Group A, beating over Uzbekistan (12 points), but the score point gap between the two teams is only one point. The winner and the runner-up in the group are entitled to win a ticket each to directly advance to the World Cup finals, and even if Korea ends up ranking third in the group, it will still have the possibility to advance to the finals in Russia due to playoff matches. However, Team Korea has constantly looked unstable.
"The coach made a lot of preparations. But no matter what kind of play he demanded the players have failed to display," team captain Ki Sung-yueng (Swansea City) said apparently in a show of his support for the coach. However, after all it is none other than the coach himself that should help players to make moves. If players fail to display the kind of plays that a coach demands, the coach should bear responsibility after all. Most experts are saying that if Stielike cannot make the players change and move, Korea should fire Stielike and recruit a new coach.
Jong-Koo Yang yjongk@donga.com