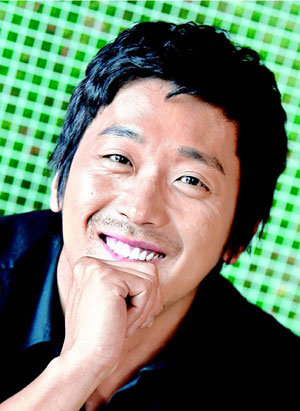 Actor Ha Jeong-woo has gone from cold-blooded murderer to a professional Casanova whom women pay to be with.
In his new movie, "The Moonlight of Seoul" ("Beastie Boys" in Korean), the actor plays a man who serves drinks and dances with women at a host bar.
The role is a substantial departure from the brutal killer he played in the hit thriller "The Chaser," which attracted five million viewers nationwide.
In "Moonlight," Ha plays Jae-hyeon, who lives for the day, talks big and tries to con people. While using his roommate/girlfriend to get 50 million won, he brings other women to their home. Instead of being driven away by his brazenness, plenty of women seem eager to vie for his affection.
To perfect his role, Ha said he read interviews of 200 men who worked at host bars and met some of them. He told the Dong-A Ilbo, "Some of these guys are real professionals. They know how to get their clients to open their wallets. They even have detailed manuals to win their hearts."
So what did Ha learn from them?
"First, you need to maintain your pride as a man," he said. "This means you should never let women pay for meals even if she is loaded. Second, you need to give the impression that you are available and accessible so that these women can easily approach you."
Ha is known as an outgoing and energetic person who brings life to the set, but says he is a relatively reserved man.
"I rarely talk when I am with my family," he said. "But my quietness has not exactly worked to my advantage in my career, and that is why I tried to become an outgoing person."
"Moonlight" is the second collaboration between Ha and director Yoon Jong-bin following "The Unforgiven" in 2005. When offered the role of Jae-hyeon while shooting "The Chaser," Ha immediately accepted without reading the script.
"Yoon and I are quite close to each other," he said. "We watch [Los Angeles Dodgers pitcher] Park Chan-ho's games together and talk about the English Premier League all the time."
"However, we are perfectly professional when shooting a film, not hesitating to point out what needs improvement in each other's performance. I tell him when I feel lines do not match the character and ask him to change them."
Ha's father is actor Kim Yong-geon. On Kim's opinion of his son's cinematic success, Ha said his tight-lipped father congratulated him once and that was it, adding Kim does not give him tips or feedback on acting.
On what role he wants to play next, Ha was quick to answer "a good-hearted farmer in an inspirational drama," as if he had waited for the question.
polaris@donga.com