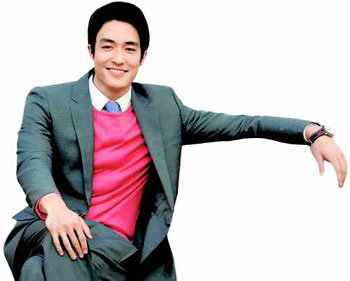 Actor Daniel Henney is different compared to his "My Name is Kim Sam-soon" days. His shyness has disappeared and he has a calm, dandy aura. "Spring Waltz," which will air for the first time on March 6, is the conclusion of the series including "Endless Love"; "Winter Sonata"; and "Scent of Summer," all directed by producer Yoon Suk-ho.
"Spring Waltz" is a love story involving four men and women set amidst Austria's natural beauty and a Korean spring.
"I'm playing pianist Yoon Jae-ha's (Seo Do-young) global manager, Philip. This time I play a mixed son of an Austrian father and a Korean mother. Philip's superb appearance and manner, his excellent sense of humor, his great educational background, his love of music… doesn't that sound like me?" Henney laughs.
But the look in his eyes communicated the anxiety he is experiencing from his belief that this drama will determine whether people will consider him a serious actor or not.
"Kim Sam-soon's Henry appears without a childhood, but Philip experiences difficulty with his parents from a young age and grows up scarred. Because he is a character with a past, 'internal' acting is necessary."
Of particular interest are his lines in Korean. If his mastery of the Korean language is lacking, he could receive his first attacks from the public.
"In the first part of the drama, because the character grew up in a foreign country, his speaking is limited to phrases like, "it's cool," and "that's strange." This is lower than my level of Korean. I can understand about 60 percent of everyday Korean language conversation. But my Korean lines become longer as the drama unfolds, and longer phrases are still difficult for me. When I'm speaking in Korean, it is sometimes difficult for me to become absorbed in my acting."
In order to become better accustomed to Korean conversation, he says he listens to music and sings along with Yoon Do-hyun's "Love 2," the band Deli Spice's "Chawoo chawoo," and Lee Seung-chul's "Hee-ya," which are some of his favorites. He also watches producer Yoon Suk-ho's "Endless Love," and "Winter Sonata," saying that he learns elegant emotional acting and subtlety from them.
Yoon has admitted that Philip's character did not exist in the beginning. This means the role was created for Henney. Will he be able to adapt to the role? That is his task for 2006.
zozo@donga.com