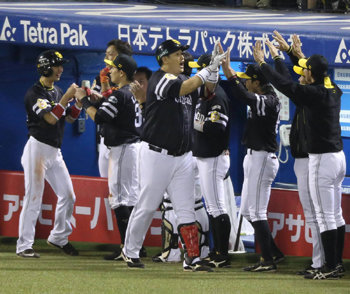 Lee Dae-ho, 33, has led his team, the Softbank Hawks, two times in a row, becoming the first Korean MVP in Japan Series. After successfully completing the last season, his fans now speculate about which uniform he will be wearing next year.
In 2014, Lee made a "two plus one" contract with the Softbank. As he finished two mandatory years with the Softbank this season, he can now choose his next destination for the "plus one" year. If he stays with the Softbank, he can earn 500 million yen (approx. 4.7 billion won) per year with extra options. However, he can transfer to Korean, American, or Japanese team including the major leagues.
As he has many cards in his hands, ESPN, Fox Sports, and other media companies started mentioning the possibility of Lee going for the major leagues. "Going to the U.S. will be a difficult but worthwhile challenge for Lee. He has a weakness at speed, but his flexibility and hitting sense are good enough to make him a designated hitter," commentator Heo Gu-yeon speculated.
Although holding two title rings, Lee has never been on the top in Korea. If he decides to come back to Korea to take a much desired crown, it might be a catalyst that highly benefits Korean professional baseball. "Investing a huge amount of money on scouting Lee seems like a good option for the Lotte Giants as it has recently lost many stars one after another. This scouting will be seen as a respectful treatment of the franchise star," said a baseball expert. This might be Lotte`s unrequited love for Lee. The chance of him coming back to Korea is very low, given all aspects such as his reputation, money, and the environment for baseball in Korea.
Lee will reportedly come back to Korea soon as he has been selected for the "Premier 12," an international competition that will be held next month. "If Lee joins the team on Monday afternoon, I think he can start training from the next day. Then he will be able to take part in the Cuba match on Wednesday and Thursday," national team manager Kim In-sik said.
Lee made headlines first by declaring that he would spend the 5 million yen MVP prize money on feasting with his colleagues. Right after his final win, he said that his wife, Shin Hye-jeong, was pregnant with his second child, a son.
kjs0123@donga.com