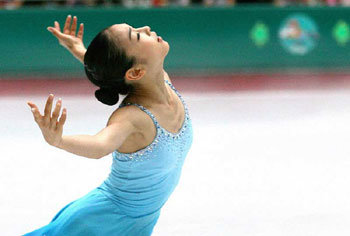 Korea's figure skating darling, Kim Yu-na (17, Gunpo Suri High School) has been breaking records with every appearance in every competition this season.
The last stage of the Gran Prix series, the Grand Prix Finals, is next on her plate.
After emerging victorious in the 5th round of the Grand Prix held in Moscow, Russia last month, Kim has been undergoing a training regimen in Toronto, Canada. In preparation for the upcoming competition, Kim arrived in Torino, Italy on December 11, and has been undergoing continuous conditioning drills.
The 9-day Grand Prix of Figure Skating Finals to be held on December 14 (Korean Time) will feature the top 6 skaters of this season's Grand Prix. In the Ladies' Singles category, Kim is the potential candidate to win the title. She has been leading the way by far throughout the series, and an upset victory by anyone else seems unlikely.
Having completely recovered from her back injury of the previous season, Kim garnered her personal best points during the 3rd round of this, her first Grand Prix of the season, with a 122.36 for her free skate, and a total average of 180.68 on her way to another victory. In the 5th round, she set a new personal best and tied a world record at 133.70 for free skating, and totaled 190.20 points.
In contrast to Kim, rival Asada Mao of Japan and other skaters faced much difficulty adjusting to the new strict grading system passed by the ISU. During the 6 rounds of other Grand Prix competitions, no other skater gained more than 180 points.
Thus, for this upcoming competition, her second crowning glory looks assured, and fans are anticipating how many more personal bests she will be able to beat. For the first time in the women's singles competition, gaining 200 points looks to be within the realm of possibility.
After winning the 5th round of the competitions, Kim said, "I did set a new personal best for free skating, but there is still much room for improvement. I'll continue to work even harder."
SBS will be broadcasting the women's singles short program and free skating at 5 a.m. on December 15 and 16.
kimsk@donga.com