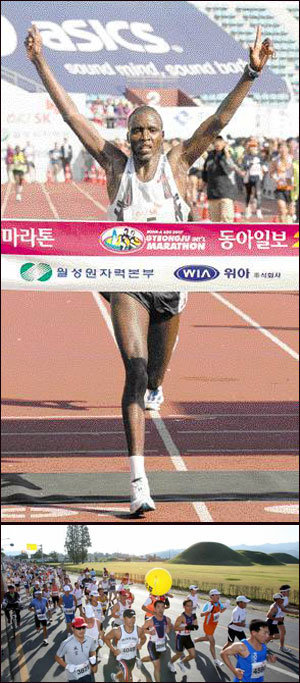 The ancient Korean city of Gyeongju was in a festive mood after its marathon ended yesterday.
The Dong-A Ilbo Gyeongju International Marathon jointly hosted by Gyeongbuk Province, Gyeongju City, the Korean Athletic Foundation and the Dong-A Ilbo featured a course that circumnavigated the city, starting at Hwangsung Park.
It was the first international field for the Dong-A Ilbo Gyeongju Marathon in 10 years since 1997. Male marathoners from seven countries, including Kenya, Ethiopia, Tanzania, Japan, and China, and some 100 Korean elite marathoners ran along with 10,793 other runners.
Since the first Dong-A Marathon in 1993, the event was held as an international competition from 1994 to 1997, but became a domestic competition after the financial crisis in 1997. The Dong-A Marathon changed into the Seoul International Marathon, but the Gyeongju Marathon has remained as an autumn competition for expert runners. But the competition was reborn again this year as an international competition for elite marathoners from at home and abroad.
This year's event showed that it could become one of Korea's two major marathon competitions, along with the Seoul International Marathon that is held every March. The winner from Kenya finished in two hours and nine minutes, which is not a very impressive finish. But the good weather and flat course demonstrated possibilities that records could improve in future events.
The men's winner, Edwin Komen (25), finished with a time of two hours, nine minutes, 44 seconds, followed by Charles Kibiwott (33) at two hours, nine minutes, 45 seconds, and Wilson Kigen (27) at two hours, nine minutes, 56 seconds. Kenyan marathoners swept the one through five spots. Among female marathoners, Yoon Sun-sook (35, Gangwon Province) won with a time of two hours, 35 minutes, 53 seconds, her best record in three years. Shin Jung-hoon (25, Gumi City) came in first among Korean male participants with a time of two hours, 18 minutes, surpassing his former record by one minute, 13 seconds.