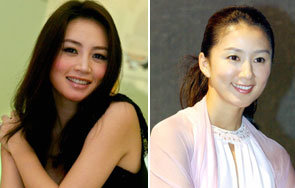 Top stars Kim Hye-soo and Kim Hee-ae will compete in weekend TV dramas on MBC and KBS.
MBC assigned Kim Hye-soo to the main role of "Hangangsoo Taryeong" (producer: Choi Jong-soo), which starts on October 2, while KBS2 chose Kim Hee-ae for its show "Letter to Parents" (producer: Chung Eul-young), which starts on October 16.
The writers for these dramas are as deluxe as the main actors. "Hangangsoo Taryeong" will be written by Kim Jeong-soo, writer of "You and Me" and "Mother's Sea," while "Letter to Parents" will be written by Kim Soo-hyun.
These dramas attract our interest because they are authentic heavyweight human stories, unlike most recent dramas whose main themes are either new generation love stories or Cinderella stories.
To Kim Hye-soo, who opened eyes and drew raves for her acting in the recent movie "Beauty Without Face," this is her first drama comeback since "Jang Hee-bin" ended last October on KBS2. Kim Hye-soo said, "Jang Hee-bin started with noise, but this time, I would like to be faithful to my role without noise."
Kim Hyei-soo is taking the role of Yoon Ga-young, a magazine reporter who is practically the bread-earner in her fatherless family and possesses the eldest-daughter complex. She wanders between two men, Kim Seok-hoon (Lee Joon-ho), her long-time boyfriend, and Choi Min-soo (Shin Ryool), a new guy. Ko Doo-shim acts as the mother and Kim Min-sun the younger sister.
With a smile, writer Kim Jeong-soo said, "I want to make the healthy and stately image of Kim Hye-soo appeal to audience. I asked a big senior writer of mine, Kim Soo-hyun, to 'write gently.'"
Kim Hee-ae is working again with writer Kim Soo-hyun for the second time since "Perfect Love," a SBS drama, ended last December.
"Letter to Parents" is a story of a woman who married into a rich family when she was young. She gives birth to a baby with autism and is treated badly by her husband and his family. Huh Joon-ho will play her husband.
It is anticipated these four Kims will heat up these dramas this fall season.
Jung-Bo Suh suhchoi@donga.com