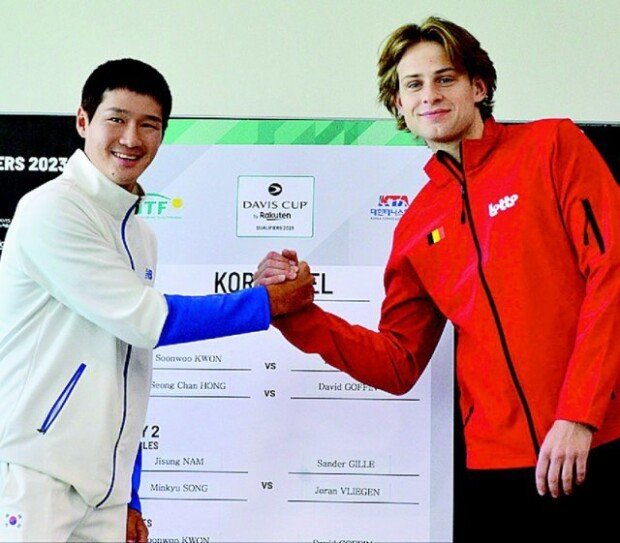 "Of course, I feel the pressure, but since it is a game held in Korea, I decided to enjoy the pressure," said Kwon Soon-woo (No. 61 in the world), one the best-known Korean male tennis players. On Friday, he finished the draw for the final round of the 2023 Davis Cup held at the Olympic Park Indoor Tennis Stadium in Seoul.
The Davis Cup is a men's national competition organized by the International Tennis Federation (ITF). Korea will face off against Belgium on the 4th and 5th at the Olympic Park indoor tennis court for the right to advance to the World Group (R16). Since its participation in the event in 1960, Korea succeeded in entering the World Group last year following 1981, 1987, and 2008.
For Korea to advance to the World Group for the first time in its history of participating in this tournament for two consecutive years, it needs to score at least three wins in the matches, which will be held in four singles and one double. Belgium is a strong team that has been placed the runner-up three times in this competition in 1904, 2015, and 2017.
In the first match to be held at 11 a.m. on Saturday, Kwon will try to take the lead against Zizou Bergs, ranked 115th. Hong Sung-chan (ranked 237th) will then play against David Goffin, ranked 41st.
On Sunday, the four players will switch opponents. Kwon will face Goffin first, and Hong Sung-chan will play Bergs. "Goffin is a player I have watched playing and copied a lot since I was young," said Kwon."Maybe that's why I have a similar play style to him, and rather than feeling burdened or tense, I can't wait to play."
In the doubles, which will be held as the first game on Sunday, Song Min-kyu and Nam Ji-sung will play against Joran Bligen and Sander Gille.
Kyu-In Hwang kini@donga.com