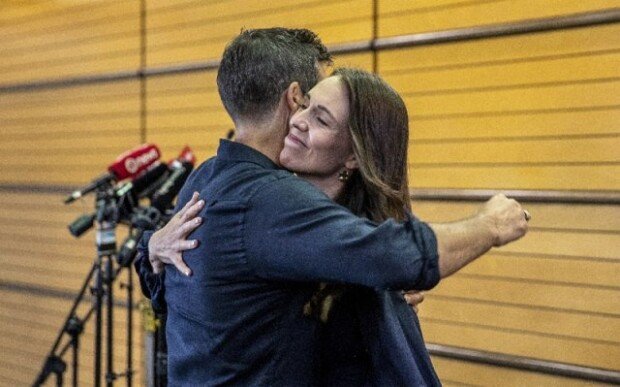 New Zealand Prime Minister Jacinda Ardern, a "leader of the world's youngest leaders," announced Thursday that she would resign from the office, citing burnout. The shock announcement came as many expected Ms. Ardern to run for a third term in a general election in October since she was sworn in as the country's prime minister in October 2017. She had no apparent competitor. The ruling Labor MPs will vote to find her replacement on Jan. 22, and the new prime minister will take office on Feb. 7.
Ms. Adern said she would step down by Feb. 7. Comparing political passion to a "fuel tank," the prime minister said she no longer has "enough in the tank" for her premiership. "Politicians are human. I know what this job takes. And I know that I no longer have enough in the tank to do it justice."
"Being prime minister has been the greatest honor of my life and I want to thank New Zealanders for the enormous privilege of leading the country for the last five and a half years," said Ardern. "With holding such a privileged role comes responsibility, including the responsibility to know when you're the right person to lead, and also when you're not," she continued.
After the press conference, she made a surprise marriage proposal to Glarke Gayford, whom she is practically married to. Ms. Adern engaged with her partner after giving birth to her daughter Neve in 2018. She became the first elected leader to take maternity leave while in office. She also brought her baby daughter when she gave a speech at the United Nations in 2018.
Ms. Ardern was first elected as Parliament (MP) member in the 2008 general election. She was elected as the prime minister in 2017, New Zealand's third female leader and the youngest Prime Minister in history. She was re-elected for a second term in 2020 based on her rapid response and leadership achievements during her tenure. The 2019 Christchurch terror attack, which killed 51 people at two mosques, was one of Ms. Ardern's defining leadership moments. Wearing a hijab and sitting with the families of victims, Ardern left a lasting impression on the world. In the earliest days of the pandemic, Ardern won praise for implementing some of the world's toughest Covid restrictions including strict travel ban on foreigners. She was celebrated throughout the world as one of the youngest leaders, along with Finnish Prime Minister Sanna Marin, Ukrainian President Volodymyr Zelenskyy, and French President Emmanuel Macron.
Ms. Ardern's popularity has waned, however, partly due to the high inflation that has been plaguing the global economy, with her approval rating sliding to the lowest, being outweighed by the main opposition National Party. In a news conference, Ardern said she was leaving because she believed Labour would win the upcoming election. With New Zealand Deputy Prime Minister Grant Robertson, who also serves as finance minister, having announced that he would not seek to stand as the Labor leader, the country is expected to see some political upheaval.
empty@donga.com