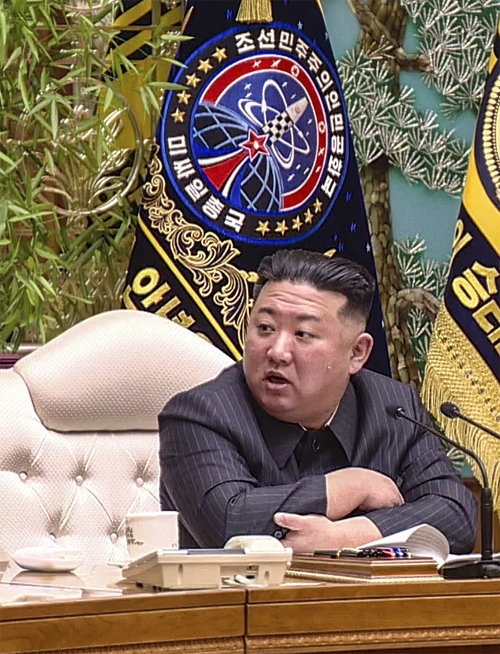 North Korea is reportedly to have launched a "Missile General Bureau" overseeing missile development. North Korean leader Kim Jong Un presided over an enlarged meeting of the party's Central Military Commission on Monday, bolstering war readiness posture. This has marked Kim's first public appearance in 36 days since Jan. 1, when he showed up to pay respects at the Kumsusan Palace of the Sun.
"The leaders had an in-depth discussion on major military and political agendas for 2023 and the future direction of military buildup (at the enlarged meeting)," the state-run Korean Central News Agency reported Tuesday.
The full title "DPRK Missile General Bureau" and the symbol of the bureau were printed upon a flag behind Kim Jong Un sitting at the meeting seen in a picture disclosed by the North Korean news agency. The symbol shows a flying missile, which is estimated to be the North Korean intercontinental ballistic missile Hwasong-17.
Pundits suggest the North will disclose super-sized rocket launchers capable of carrying tactical nuclear weapons at its military parade to mark the 75th anniversary of the foundation of the North Korean armed forces. "The North Korean regime may present new cruise missiles and 600mm multiple rocket launchers that can carry a nuclear warhead at this year's military parade," former USFK Commander Robert Abrams said, according to Radio Free Asia (RFA).
The Voice of America (VOA) said on Sunday that satellite photographs acquired by Planet Labs on Saturday showed several green and red dots, respectively, in the shape of "75" and "2·8" in the Kim Il Sung Square in Pyongyang.
Jin-Woo Shin niceshin@donga.com