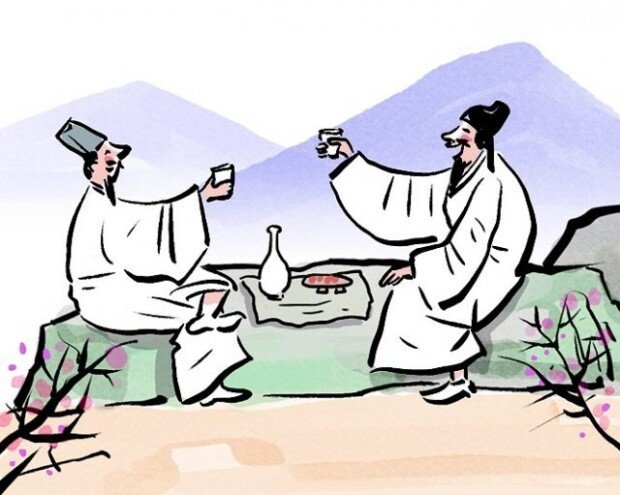 There are multiple tricks for luring your friends into having fun over a drink. Chinese poet Bai Juyi looks at mellowed alcohol sizzling in the pot and implicitly asks one of his friends, "As night falls, it is about to snow, making me wonder whether we can take a sip." Li Bai, another Chinese author famous for his vigorous character, strongly recommends having drinks by adopting a sophistic line, "Wise men left silent but only those boozed-up rendered renowned."
The earnestness of the poet's narrative is of the highest level as he writes this sincere line, "With it being a clear and fine day, come visit me. Even if it rains, do me a favor," while intentionally depicting wild flowers scattered here and there. As if that were not enough, the poet highly commends his friend for having such a generous and sweet quality, making it hard for him to say no. Their meetup may go casual with no frills. Sitting on a mossy rock may get their clothes stained, but it never holds them back as they are fully ready to hit the bottle. Just out of concern, the poet adds a final line.
We could find ourselves apart if we just wait to get things set up and find a perfect drink time. Otherwise, we would get past spring days. Do not expect vaguely that a rainy storm will be gone the next morning. Traditional poetry and prose declined with the state examination system not in place during the Yuan dynasty when the Mongols ruled the country's central districts. By contrast, lyrics, called Sa, had advanced from the Song era through the Yuan dynasty. "Namhyangiljeonmae" is the title of the lyrics.