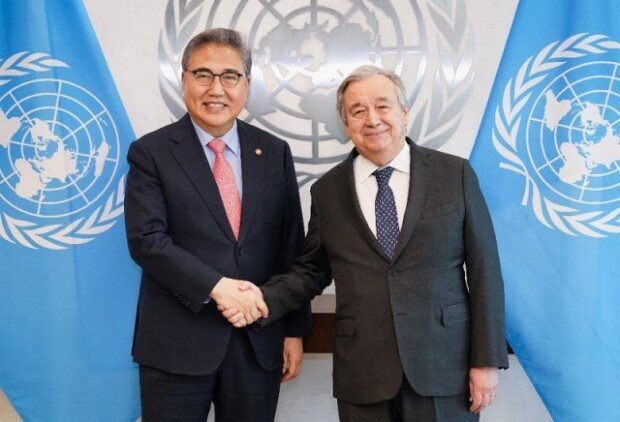 Foreign Minister Park Jin, who is visiting the U.S., met with UN Secretary-General António Guterres on Wednesday (local time) to discuss cooperation at the UN level to resolve the North Korean nuclear issue.
After the meeting, Minister Park met with reporters at the United Nations Headquarters in Manhattan, New York and said, "Mr. Guterres said North Korea's nuclear test would deal a "decisive blow" to regional and global peace and expressed serious concern about further provocations. He said he was conveying these concerns to North Korea as well." He added that he gave full support to the Korean government's efforts to achieve sustainable peace on the Korean Peninsula.
On the same day, Minister Park had a luncheon with ambassadors from 15 member countries of the UN Security Council (Security Council) and exchanged opinions on the role of the Security Council in responding to the North Korean nuclear issue. Russian and Chinese figures who supported North Korea were also in attendance. Minister Park said, "The Security Council urged countries to unite as soon as possible and take decisive countermeasures against North Korea's provocations. China and Russia also expressed concern about North Korea's nuclear test." Although there is a slight difference in viewpoint between China and Russia, he said that the two countries also valued resolving the North Korean nuclear issue through dialogue and diplomacy, helping to form a consensus.
However, U.S. Ambassador to the United Nations Linda Thomas-Greenfield said at a press conference held at the State Department in Washington that day, "The Security Council pushed hard to condemn North Korea's actions, but China and Russia, which are permanent members, are abusing their veto power" to highlight the need for a change in the stance of the two countries and reform of the Security Council.
Minister Park is scheduled to hold talks with U.S. Secretary of State Tony Blinken on Friday. It is believed that the two will discuss preparations for the ROK-U.S. summit at this meeting. Minister Park said, "Nothing has been decided on holding the summit," but added, "I expect that there will be meaningful events to mark the 70th anniversary of the ROK-US alliance."
Hyoun-Soo Kim kimhs@donga.com