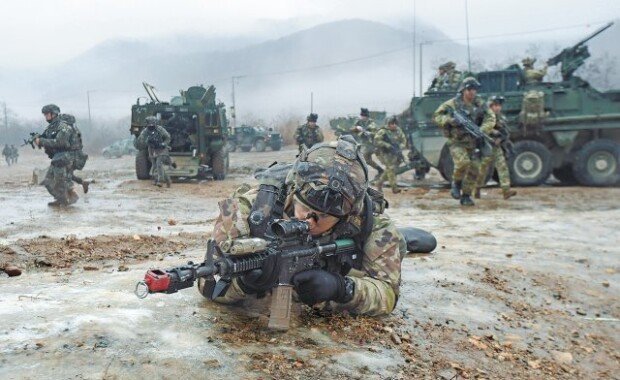 The White House said in response to President Yoon Suk Yeol's mention of South Korea's nuclear weapons, "The United States and President Joe Biden are committed to the complete denuclearization of the Korean Peninsula, and this has not changed." It is interpreted that he effectively expressed his opposition to South Korea's nuclear development, emphasizing the principle of "complete denuclearization of the Korean Peninsula," including South Korea and North Korea.
On Thursday, during a briefing, John Kirby, the Strategic Communications Coordinator for the White House National Security Council, responded to President Yoon's recent comments regarding the possibility of equipping South Korea with nuclear weapons on the premise of escalating threats from North Korea's nuclear program. "The Republic of Korea has made clear that they are not seeking nuclear weapons. What we are going to seek, jointly together with them, are improvements in extended deterrence capabilities," he added. "So we're going to move forward on that." He emphasized that the U.S. policy towards North Korea's nuclear threat relies on extended deterrence and strengthens trilateral security cooperation between South Korea, the U.S., and Japan rather than supporting South Korea's pursuit of nuclear self-reliance.
In a report by the Ministry of Foreign Affairs and the Ministry of National Defense on Wednesday, President Yoon said, "South Korea may consider deploying tactical nuclear weapons or developing its nuclear weapons."
The U.S. Department of Defense expressed concern over this issue, citing the international nuclear non-proliferation regime. When asked why South Korea cannot develop nuclear weapons when North Korea, China, and Russia all have nuclear weapons, U.S. Department of Defense spokesman Pat Ryder said that preventing the possible use of nuclear weapons remained key to ensuring regional security and stability. In other words, he indirectly pointed out that South Korea's nuclear development violates the Nuclear Non-Proliferation Treaty (NPT) and could lead to a "nuclear domino" phenomenon in Northeast Asia.
weappon@donga.com