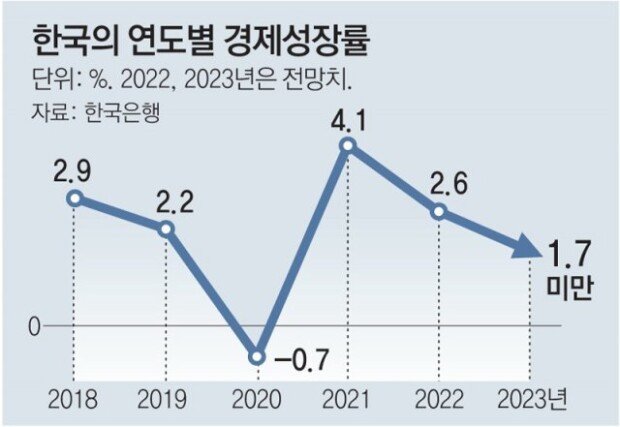 Concerns about stagflation, an economic cycle characterized by stagnant economic growth and high inflation, are increasing as inflation remains high for an extended period. The Bank of Korea has announced a plan to lower its annual economic growth forecast from 1.7%, reflecting concerns about the slowing economy. The revised forecast projects growth in the low- to mid-1% range.
The Monetary Policy Committee of the Bank of Korea (BOK) held a meeting on Friday morning, where they decided to raise the base interest rate by 0.25 percentage points, from 3.25% to 3.50%. This marks the seventh consecutive interest rate hike following increases in April, May, July, August, October, and November last year. This move also narrows the gap between the Korean benchmark interest rate and that of the U.S., which currently stands at 4.25-4.50%, to 1.00 percentage points.
"We decided to raise the base interest rate due to the high level of inflation and the expectation that it will remain above the target level for a prolonged period," BOK Governor Rhee Chang-yong said at a press conference on the day. The Consumer Price Index (CPI) inflation in December was 5.0%, decreasing since July (6.3%), but it remains well above the BOK's inflation target of 2.0%.
The BOK also announced that it would lower its annual economic growth forecast. Rhee said, "I had forecasted 1.7% in November, but the recent indicators show that the growth rate is likely to be lower than that." The Korean central bank plans to present revised forecasts with more details in its economic outlook report to be released in February.
Governor Rhee also stated that the Korean economy is currently on the "borderline" of stagnation and that the negative growth in last year's fourth quarter was confirmed.
Min-Woo Park minwoo@donga.com