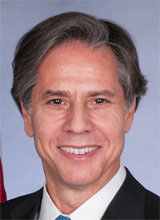 Joe Biden is expected to nominate former Deputy Secretary of State Antony Blinken as the first secretary of state under his administration, foreign media reported on Sunday (local time). Jake Sullivan, a former national security advisor to the vice president, will be the new national security adviser.
The New York Times and The Washington Post reported that Biden will announce Blinken as a nominee for the secretary of state on Monday. Blinken is an experienced diplomat, having served as a deputy national security advisor from 2013 to 2015 and as a deputy secretary of state from 2015 to 2017 under the Obama administration. He has worked closely with Biden for almost 20 years ever since he and Biden began working together in 2002 as a staff director for the Senate Foreign Relations Committee and a chairman of the same committee, respectively.
Once appointed as state secretary, Blinken will be in charge of Biden's foreign relations and security policies, including restoring alliances and strengthening cooperation with partners. Blinken is considered a hardliner on North Korea. "We have to build genuine economic pressure to squeeze North Korea to get it to the negotiating table," he said during an interview with a U.S. media company. He also described North Korean leader Kim Jong Un as one of the worst tyrants.
lightee@donga.com