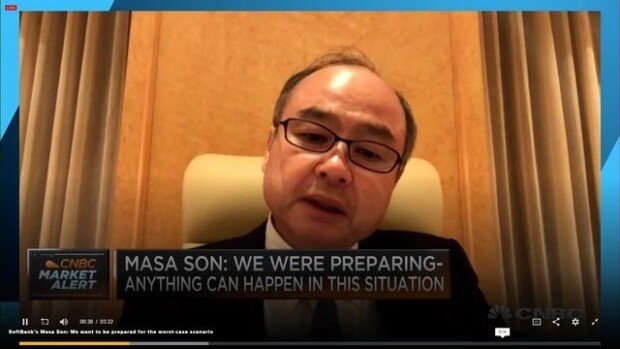 SoftBank CEO Masayoshi Son said any "disaster" could happen in the next two or three months due to the aftermath of COVID-19 and he has stocked up cash to prepare for it. He did not give specifics about the disaster but experts say it is possible that he was concerned about a second global financial crisis since he mentioned Lehman Brothers' collapse that triggered the 2008 global financial crisis.
Speaking virtually at a conference held by The New York Times (NYT) on Tuesday (local time), the third-generation Korean-Japanese entrepreneur said the entire world could be put under lockdown due to the second wave of COVID-19, adding that he has aggressively sold off assets to prepare for a worst-case scenario.
"Of course, medical vaccine is coming. But who knows in the next two or three months?," said Son expressing his concerns about a disaster. Mentioning Lehman Brothers' collapse in 2008, Son said anything can happen in this situation just as the bankruptcy of one bank led to a broader market meltdown.
Son went on to say that his company initially planned to sell 40 billion dollars of assets but sold off about 80 billion dollars of assets to secure liquidity, adding the company could buy undervalued assets or buy back more stocks with that money. SoftBank sold its UK-based chip designer ARM to American graphic chip company Nvidia for 40 billion dollars this year and is in the process of selling 20 billion dollars of its shares in T-Mobile. It also sold about 20 billion dollars of its Alibaba stake.
As for U.S. President Donald Trump's threat to close down social media app TikTok amid U.S.-China friction, Son said it is "sad." "Just being big and powerful is not necessarily an evil thing," said Son, indirectly criticizing the Trump administration's move to regulate TikTok, which has more than 100 million users in the U.S.
lovesong@donga.com