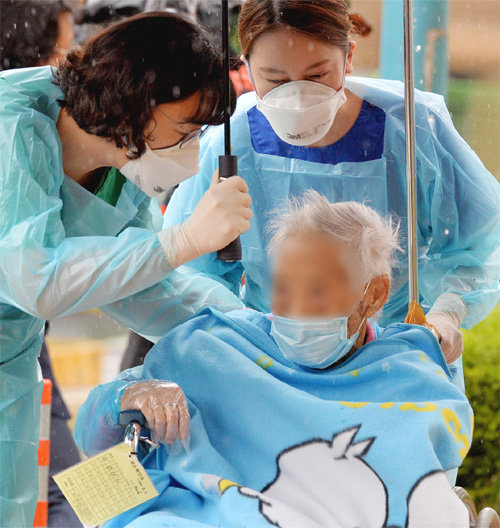 Ms. Choi, the oldest COVID-19 patient in South Korea aged 104 years old, was discharged from a hospital on Friday after a full recovery in over two months. Ms. Choi made a complete recovery 66 days after she was first admitted to a hospital and was discharged at 11:30 a.m. on Friday, Pohang Medical Center in North Gyeongsang Province said.
She had been residing at Seorin sanitarium in Gyeongsan, North Gyeongsang Province since 2012, and was admitted to Pohang Medical Center on May 10, two days after a positive COVID-19 test as a result of mass infection at the sanitarium. She had received intensive care with medical staff monitoring her condition for around the clock as she has mobility issues and underlying diseases, including asthma. She was put on a respirator for severe pneumonia symptoms and also suffered from enteritis. Her condition improved thanks to consistent care and started to get tested for discharge from March 26.
Ms. Choi was tested a total of 12 times. She was tested negative for the ninth test on Monday but her 10th test came positive again. As she was tested negative twice in a row for her 11th and 12th tests, each conducted on Wednesday and Thursday, her discharge was decided.
With the discharge, she is now the oldest COVID-19 survivor in South Korea. "I saw a glimpse of hope for her recovery as all medical staff had done their best," said Hahm In-seok, the director of Pohang Medical Center. "I thank Ms. Choi for enduring difficult treatment and recovering her health."
sojee@donga.com