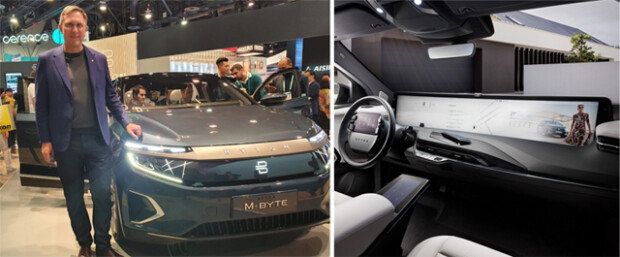 Three people with some 20 years of experience in the automotive components divisions at global car manufacturers had a heated discussion on the theme, "If Apple made a car, what would it look like?" in Hong Kong back in 2017. The, knew instinctively that the "iPhone moment" for cars will soon happen. They had a hunch that Apple would change the landscape of the car industry as it did in the cell phone industry with its iPhone. Their meeting was the beginning of all-electric vehicle automotive brand Byton, also dubbed "China Tesla," which is scheduled to produce 50,000 units of its cars in Gunsan, South Korea from next year.
A Dong-A Ilbo reporter met with Daniel Kirchert, co-founder and CEO of Byton, at the CES 2020 in Las Vegas on Wednesday (local time). The former Nissan executive founded Byton with former BMW executive Carsten Breitfeld and former Tesla executive Stephen Ivsan.
Kirchert said the three of them were into devices instead of cars when they founded Byton, adding that they decided to create a brand that can compete with Tesla by combining the genes of Silicon Valley, Europe, and China. Although Byton is dubbed China Tesla, its key staff are composed of German and American technical experts, including the German CEO.
The M-Byte, Byton's flagship model, was showcased at the CES 2020. It was a future EV equipped with the glass roof, 48-inch wraparound dashboard screen, and Level 4 autonomous driving technology. Kirchert said the time spent in a car has been a waste of time and Byton is planning to turn it into a base for a family life, office work, and social activity.
A mass-production of the M-Byte is planned around mid-2020 at the Gunsan plant, which was formerly owned by GM Korea. The price of M-Byte will start at 45,000 U.S. dollars, a more cost-effective choice for consumers than Tesla's models. The Tesla Model 3, which is in the same price range as M-Byte, can travel 352 kilometers on one battery charge while Byton travels 459 kilometers.
"The era of autonomous driving will come in 10 years. We want to make a success in South Korea, a global leader in mobile 5G technology, not with a simple EV but with a connected car," said Kirchert when asked why he chose the Korean market as a test bed. "Byton could bring South Korea's 5G technology to the global market based on its success story in Korea."
SK Telecom has become Byton's first partner in South Korea. While applying its services, such as T Map to the M-Byte, the company will support Byton's marketing as well. "SK Telecom CEO Park Jung-ho and I have shared the idea that a car is not just a means of transportation but a device," Kirchert said.
Do-Young Kwak now@donga.com