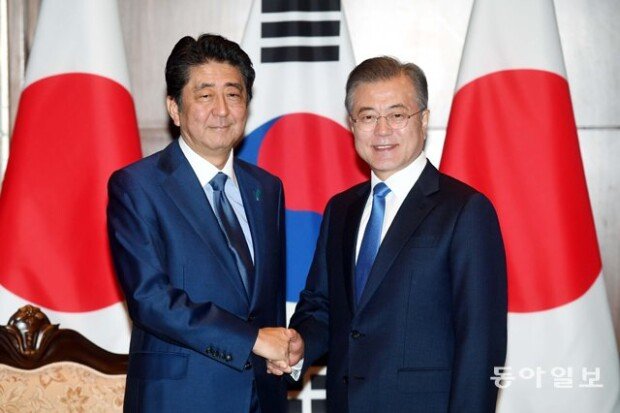 As South Korea and Japan have reportedly found a point of agreement to remove export regulations on three key materials for the semiconductor, it is predicted that a South Korea-Japan summit on Tuesday could be a major turning point for the strained bilateral relations due to Japan's export controls. If South Korean President Moon Jae-in and Japanese Prime Minister Shinzo Abe reach an agreement to withdraw the export regulations, it will work as a momentum to further boost the bilateral relations, which has been temporarily relieved since the conditional extension of the General Security of Military Information Agreement (GSOMIA). However, some believe that positive outcomes cannot be guaranteed as final negotiations between the two countries on issues, such as withdrawing the decision to remove South Korea from the white list, are still underway.
The South Korean presidential office Cheong Wa Dae announced on Friday that President Moon will meet Chinese President Xi Jinping on Monday and Prime Minister Abe on Tuesday. The two summits to be held in conjunction with the trilateral summit among South Korea, China, and Japan will be the South Korea president's last summits of the year.
The highlight of President Moon's visit to China will be the summit between South Korea and Japan, which is taking place for the first time in 15 months. "Meetings between heads of states tend to create momentums and lead to progress," says a high-ranking official of Cheong Wa Dae. "There has been small progress as a result of the bilateral meetings at working- and director-levels regarding the three semiconductor-related items and the white-list issue."
In fact, it has been known that South Korea and Japan are pushing for the last-minute efforts by fully mobilizing diplomacy and trade channels before the meeting between the two heads of states. In particular, the two countries are working for a phased agreement on export regulations as the regulations employed by Japan's Ministry of Economy can be withdrawn immediately following a bilateral agreement while withdrawing the removal of South Korea from the white-list will take over a month as the Japanese Cabinet has to take a vote. "The efforts to announce a joint statement, which states that the export bans should be lifted first and South Korea should be put back on Japan's white-list in the future with bilateral cooperation, at the upcoming summit meeting are being made," a diplomatic source said.
weappon@donga.com