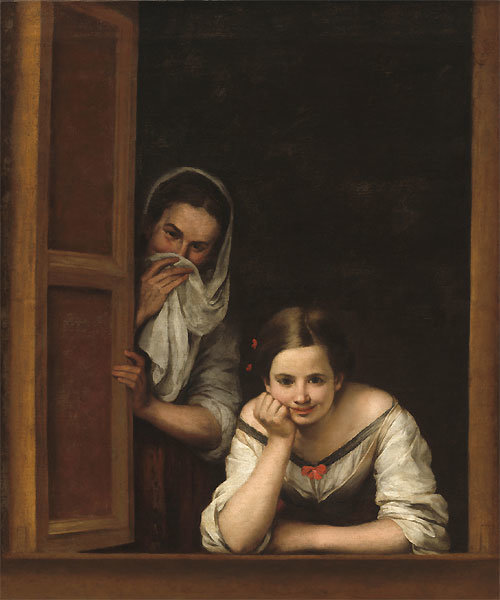 Smiles are sort of like a happy virus. When you smile, people smile back at you. The two women in the painting seem to know that very well. The lady leaning on the windowsill resting her chin on her hand is radiantly smiling as she looks past the window. The other lady standing beside her is trying not to laugh as she covers her mouth with her shawl. Who are these women? Why are they smiling?
The artist, Bartolomé Esteban Murillo, was one of the most successful painters of Seville, Spain in the 17th century. He earned great fame creating religious paintings but left behind numerous pieces of genre art that reflected the lives of everyday people. This painting, along with a portrait of a boy beggar, are two of his most popular pieces. The ladies in the painting remind us of women aristocrats and their chaperones in Spain. The jaunt girl, unlike the chaperone trying not to smile, is smiling jubilantly as she looks out the window.
Perhaps a handsome man passing by is wooing her? Or maybe two of her courters came up to her to confess their love to her? We do not know why the women are smiling. What we know, however, is that the painter combined features of 17-century Italian and Dutch art to create such a unique and attractive composition. To emphasize the light on the figures, the artist painted the background in very dark colors, which was influenced by Caravaggio, the great Italian Baroque artist. The composition of the figures against the window is not Spanish style, but adopted from Dutch genre art. The artist had clients who were affluent merchants from Flandre of Belgium, which is assumedly why he painted such pictures.
Is the girl the daughter of a rich Dutch merchant? In the 19th century, she was presumed to be a prostitute and more recently experts say she must have been an imaginative figure. It doesn't really matter who she is. The girl's smile makes us smile briefly. Perhaps they are smiling not because they are happy, but they are happy because they are smiling.