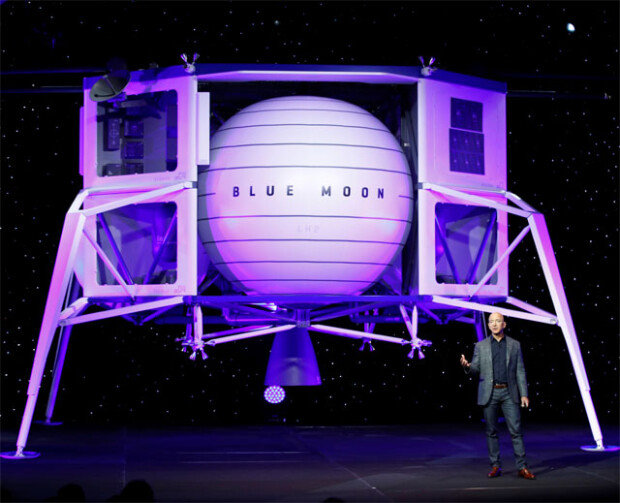 The mannedlunar module "Blue Moon" was released by Jeff Bezos serving as U.S. onlineretailer Amazon's CEO as well as the founder of the private aerospace business'Blue Origin.' It is a prior step to building a human habitat on Mars, which adds momentum to the United States' plan to send men to an outpost on the moon within five years.
The Amazon CEO revealed a real-size model of a Blue Moon landing module on May 9 (local time) at Washington D.C. Convention center in the United States in front of a groupof press members and those working in aerospace. He explained that the incredible lunar module will take us to the moon, adding that it takes a 24th of energy to take off from the moon with goods loaded in the module. He said that is why his company has an interested in the moon.
Blue Moon is up to 6.4 tons in weight. It weighs up to 15 tons with four large-scale rovers, equipment and other cargo in it. The module can reignite the engine so that itcan transport astronauts to a space station. Bezos said that the company would carry out the first test to reignite a Blue Origin-developed engine called BE-7 for landing modules this summer.
The announcement was made around the time when the U.S. government revealed a plan to send astronauts to the moon within five years. Before the Blue Origin's event, U.S. Vice President Mike Pence said that the timeline of the government's plan is around 2024, asking the NASA to bring the plan forward from 2028. In response, Bezos said that his company would be able to meet the timeline as it started preparations for manned lunar exploration three years ago.
Furthermore, Bezos put forward a new vison for the future of humanity by mentioning an artificialcolony floating in space. He said that he would love to witness a massive spacestation or 'O'Neill cylinder' that serves as a settlement design equipped with artificial gravity, adding that they can house millions of people and we should inspirethe next generations. An O'Neill cylinder is a space settlement design suggested by physician Gerard K. O'Neill. This large-scale structure or a conceptual space station would rotate to gain artificial gravity.
shinjsh@donga.com