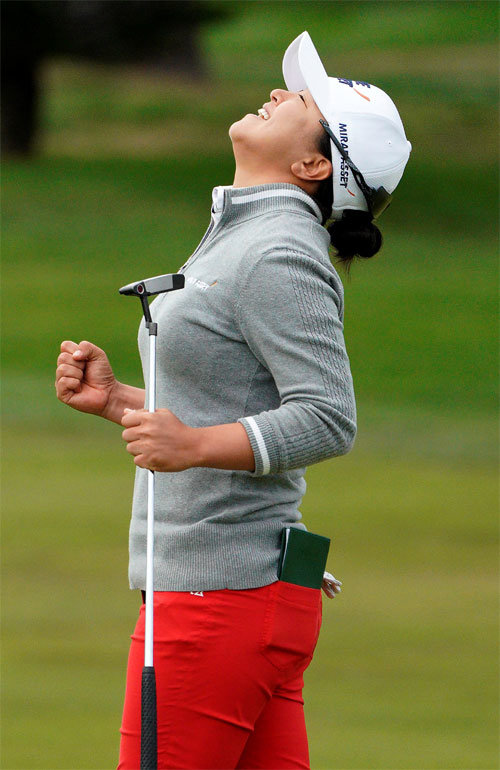 After a rollercoaster day, Kim Sei-young, a 26-year-old female golfer from South Korea, stood on the green in playoff. Her competitors Lee Jeong-eun and Bronte Law both lost their two-and three-meter putts, and Kim took a careful look at the route in her luck "red pants" before lifting the championship trophy with a one-meter birdie. It was then the even-minded South Korean cracked a smile finally, saying she felt as if her heart was going to pop out.
Kim is dubbed the "Magician in Red Pants" as she has often showed up in her red pants in the last round and snatched many dramatic victories. This would remind many golf fans of Tiger Woods, the legendary golfer who often showed off overwhelming performance in the last round in his red shirt. Kim Sei-young likes red as it brings "a sense of stability and happiness" to her game. Her father Kim Jeong-il explains he took the advice from his friend that the red color would help soothe Sei-young's red hot temper.
It was Round 4 of the LPGA Mediheal Championship, which was taking place at the Lake Merced Golf Club in Daly City, California on Monday. Leading the game by three hosts, Kim struggled with her shots during the early game. Kim lost four shots in the first half alone, committing a double bogey in the first hole. In the 14th hole, Kim handed over the lead to her rivals Lee Jeong-eun and Bronte Law, with six-under par.
Taking a joint lead with a birdie in the 15th hole, Kim Sei-young made a bogey with her tee shot falling in a bunker, which deprived her of the lead again. It seemed like the title was slipping through her fingers. In the 18th hole, Kim sent her second shot with an iron towards the green edge before pulling off a birdie and entering a playoff.
During the last round, Kim made it clear that she was there to win. Unlike Lee Jeong-eun and Law, who chose their hybrid club for second shots, Kim grabbed her four iron to send her second shot in the green edge just like the 18th hole in Round 4, before making a two-putt birdie. Dubbed the "Queen of Extra Round," Kim proved to be indefatigable in late games, prevailing in four playoffs in her LPGA Tour competitions. "I was so close to winning the championship but failed. So, I was determined to win at any rate when I entered the additional round. I am even more satisfied as I overcame my mistakes that I made early in the game," said the South Korean.
Having won at least one championship each year since her LPGA debut in 2015, Kim has won her eighth win this time, which jointly ranks her in the fifth along with Kim Mi-hyun as South Korean LPGA Tour golfer with the biggest number of championship titles, following Park Se-ri (25 wins), Park In-bee (19 wins), Shin Ji-yai (11 wins), and Cho Na-yeon (9 wins). "I think my endless passion for a win is manifested in the form of good results," said Kim Sei-young. "I am glad that I've taken one more step towards the hall of fame."
With Kim Se-young's latest win taken into account, South Korean golfers have won a total of six championship titles in 11 competitions this season.
Yun-Cheol Jeong trigger@donga.com