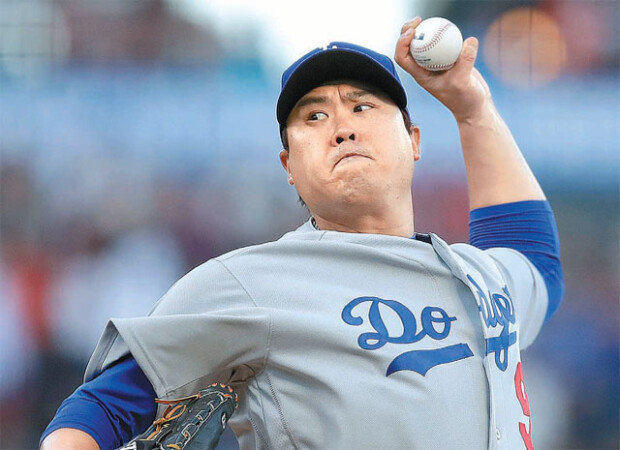 The Los Angeles Dodgers and San Francisco Giants met Wednesday (local time) at the Oracle Park, the home of the Giants. Faced with Brandon Crawford, Dodgers' pitcher Ryu Hyun-jin closed his lips firmly and gave a nod to his catcher Russel Martin. It was full count, and the South Korean chose a fast ball. Crawford hit the ball, which rolled down to the third base. At the speed of 149.2 km/h, Ryu's fastest ball on that day came in the fifth inning.
In the game against the Giants, Ryu struck out six hitters and only allowed one point in eight innings. It was his first time to thrw more than eight innings since 2013. However, the Dodgers lost to their hosts 1-2 owing to Buster Posey's single against Pedro Baez in the ninth inning. The South Korean's quality start fell short of earning him his fourth win this season, and he managed to lower his ERA from 2.96 to 2.55.
Without a doubt, his performance was remarkable at Wednesday match. Opening the first inning with his "slow fastballs" in 140km/h range, Ryu gradually cranked up his ball speed throughout the eight innings. While starting pitchers usually record their best ball speed in the first inning before it diminishes in the fifth or sixth innings, Ryu threw the opposite. When he was closing for his last batter in the eighth inning, the speedometer read 147.6 km/h.
San Francisco hitters scored first with two hits and intentional flies in the first inning, but they were overwhelmed by Ryu's increasing ball power and managed only two hits between the second and the eighth inning. "The way Ryu swings his arm is almost the same when he throws fastballs and changeups," said Kim Byung-hyun, a baseball commentator of MBC. "It is extremely difficult for batters to tell the difference."
yesbro@donga.com