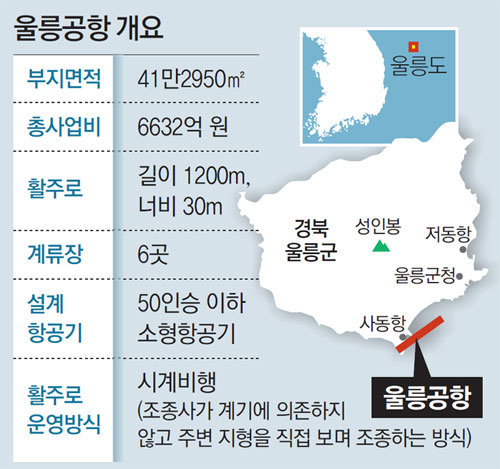 The Korean government will open a flight route between Seoul and Ulleung Island in 2025, and the current travel time of seven hours will be reduced to less than an hour. Against the backdrop, attention is being gathered regarding a possibility that building an airport on Ulleung Island will lead to the revitalization of small airports on islands in Korea.
The Ministry of Land, Infrastructure, and Transport announced on Wednesday that it will request a project procurement to the Public Procurement Service this Friday as project budget has been earmarked to build a new airport on Ulleung Island. The project, which had been stalled in 2017, could be resumed soon. The ministry has increased the budget from 575.5 billion won to 663.3 billion won by 15.3 percent while carrying out basic design autonomously.
Last month saw an opening of a new flight route from Pohang to Ulleung Island. Once the ministry chooses a contractor in charge of writing construction documents and executing construction by means of a technological proposal bidding, the project is expected to start in April next year and the new route between Seoul and Ulleung will be available in May 2025.
Jae-Myung Park jmpark@donga.com · Yeun-Kyung Cho yunique@donga.com