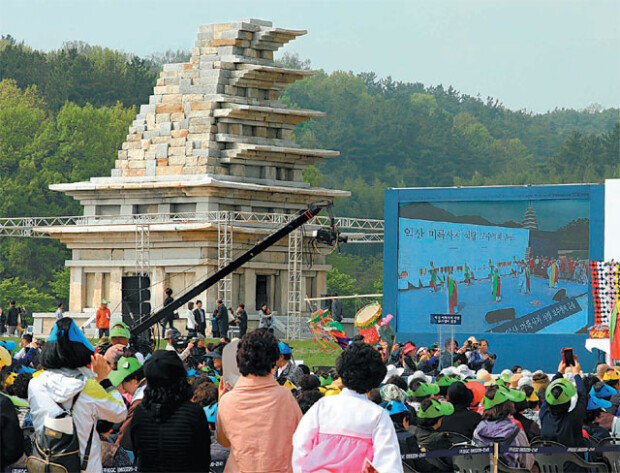 The restoration of the Mireuksaji Stone Pagoda in Iksan, North Jeolla Province, the oldest and the biggest stone pagoda currently existing in Korea, has been finally completed in 20 years.
The National Research Institute of Cultural Heritage under the Cultural Heritage Administration hosted an event to celebrate the completion of a 20-year-long dismantlement and repair work of the pagoda with the North Jeolla provincial and Iksan local governments on Tuesday. "Over the past two decades of restoration work, there was neither haste nor impatience," said Chung Jae-suk, head of the Cultural Heritage Administration. "The level of Korean technology to restore stone properties has advanced to a world-leading level through the repair and maintenance of the stone pagoda."
The pagoda was restored with 1,627 pieces puzzled together. The end result is 14.5 meters in height, 12.5 meters in width, and weighs about 1,830 tons. It was built during the reign of King Mu (600-641) of the Baekje Kingdom, the protagonist of Seodong's song, and boasts a unique aesthetic resembling a wooden pagoda. The Mireuksaji Stone Pagoda is located on the compound of Mireuk Temple, which has three pagodas and three buildings. During its dismantlement in 2009, the Sari-bonganki engraved on a golden plate, a piece of evidence that proved that the pagoda was built in 639, was found.
Believed to be originally nine-tiered, the pagoda has had only the bottom six layers left and some of its western side had collapsed. In 1915, colonial Japan haphazardly repaired the pagoda with concrete and it had withstood about 80 years in poor shape with its western side looking like a concrete mass. Following the safety inspection results revealing its unstable structure, the Cultural Heritage Committee decided to dismantle and restore it in 1999, which began the long 20 years of work.
During the record-long restoration project, the stone pagoda has produced various research outcomes, including 18 academic achievements, 14 research paper, five theses, and nine published books. Five patents for restoration technique were also registered. The total number of man-days has amounted to 120,000. In particular, this restoration project has contributed to setting new standards of cultural property restoration: avoid restoration based on assumptions without sufficient evidence; maximize the reuse of original materials by scientifically reinforcing them; and minimize the use of modern technology.
Won-Mo Yu onemore@donga.com