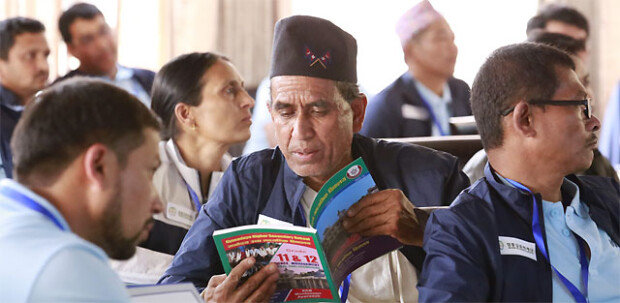 A special event was held at the Hotel Thamel Park located in Kathmandu, capital of Nepal, for three days from April 11. It was the first workshop among principals and chairpersons of steering committees of 17 Human School branches that have been by the Um Hong Gil Human Foundation in remote areas of Nepal since 2010.
"Our students grade each teacher's classes on a sheet of paper hung on the wall in a classroom every day. Teachers objected at first, but now both teachers and students are happy with the system."
An impressive example presented by the principal of the 12th Human School in Purumbu during the first session of the second day caused a stir in the venue. Other schools also boasted their achievements. "We have received 130 students from a nearby private school, which closed after our school opened its doors," said the principal of the 9th Human School in a proud voice. "We provide an opportunity to take computer classes at 10 neighboring schools. This has given us a chance to see how other schools' curricula are run and come up with a higher quality program," said the 7소 Human School principal. "We have created a course in which students and teachers can openly share their thoughts on the topic that one's character takes precedence over his or her grade as part of our official curriculum. We will grow our school into a prestigious school that produces leaders of Nepal," said the 14th Human School principal enthusiastically.
Among those who attended the workshop was Preluna Chaudhary who graduated from the 11th Human School located in one of the most underdeveloped drylands in Nepal. She is now studying the science of nursing at the Manmohan Memorial Institute of Health Sciences, an esteemed national university in Nepal. "Today we practiced feeding a patient through a tube that is inserted into a respiratory tract," said Chaudhary with a smile. "Once graduated, I want to spend one or two years working at a hospital before going to a graduate school to continue building my clinical career."
Lee Ui-jae, head of Nepal office of the Um Hong Gil Human Foundation, said that it was "quite a rare case that a student from the 'blind spot of education' who was simply focused on getting by in life now wishes to advance her academic career." He added that this was a model Human School aspired to be.
"We need something extra added on top of well-managed basic education to develop talents with a critical eye on what is right or wrong," said former education vice minister of Nepal Gunggaral. "Human School has started to crack this puzzle, and it will serve as a good example for education in Nepal."
Jae-Yeong Yoo elegant@donga.com