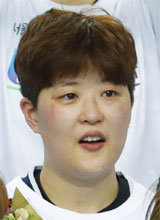 South Korean handball player Ryu Eun-hee, who led Busan Infrastructure Corporation to clinch its first-ever championship title in the 2018-2019 Korean Women's Handball League, will play for the premier women's handball league in France, the most competitive women's handball league in the world.
According to the Korean Handball Federation and the Busan Infrastructure Corporation on Wednesday, the 29-year-old player has signed a maximum two-year deal with Paris 92. The second year of the contract is an option to Ryu. The deal allows Ryu to move to a stronger team after one year if she is willing to.
Even though Paris 92 ranked at 7th in the 2018-2019 season, the team had been a competitive team for the last several years, taking the 3rd place in the previous season. As a part of its efforts to revamp the team, the team changed its name from Issy Paris to Paris 92 early this year and is looking for new players. Paris 92's deal with the 5.9-ft South Korean player, who has been called the "Queen" in the domestic league for her fantastic performance both in offence and defense, is in line with the efforts.
Not a single South Korean woman handball player has played for a European club for the past eight years since Oh Sung-ok did for the Hypobank of Austria in 2011. Now that Ryu is joining the French club, the prospects for the Korean women's national handball team at the Tokyo Olympics are bright. The women's national team won the bronze medal at the 2008 Beijing Olympics when it had three players playing for European clubs ㅡ Kim Cha-yeon (Austria), Hong Jung-ho (Norway, Denmark), and Choi Im-jung (Denmark). After that, the Korean national team came in fourth at the 2012 London Olympics and got eliminated in the preliminaries in the 2016 Rio Olympics without players playing overseas.  
"Ryu has got a chance to grow even further. Her experience in Europe will not only have positive impacts on her but also on the national team," said Busan Infrastructure Corp. coach Kang Jae-won, who helped Ryu sign the European club.
Bae-Jung Kim wanted@donga.com